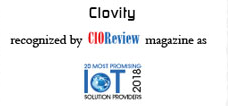 Clovity brings best-of-the-breed services together and demonstrate harnessing the possibilities through Cloud
SAN FRANCISCO (PRWEB) May 21, 2018
Clovity Inc., an industry recognized end-to-end IoT solution provider, the creator of CSensorNet and CDatainsights, who is leading the designing and building of intelligent solutions, today announced expanded capabilities which include Connected Devices capabilities, Big data, Analystics & data management and Cloud Migration including Cloud native development. Clovity is also fostering innovation 'center' – dedicated space within Clovity Development Center and Innovation Hub located in New Delhi, India where Cloud & DevOps specialists from Clovity work together to build intelligent solutions.
With Clovity's extensive experience in leading transformations in IoT, Cloud, Digital and Data, the clients looking for NexGen Cloud solutions benefit from customized, powerful and scalable enterprise Cloud migrations and deployments to deliver such innovation lead transformations for Financial, Retail, Healthcare, Health-tech and High-Tech industries.
In addition, Clovity's dedicated Cloud Practice provides full-stack delivery and software engineering on AWS & Azure Cloud. These focused services, coupled with certified software engineers, solution and technical architects help deliver full-stack on Enterprise Cloud needs.
"$1 trillion in IT spending will be directly or indirectly affected by the shift to cloud during the next five years" said Srinivasan Rangarajan, Head of Solutions of Clovity. He added "Through 2020, public cloud infrastructure workloads will suffer at least 60% fewer security incidents than those in traditional data centers and this would be a direct result of right partners, tools and solutions which can accelerate the time-to-cloud by upto 60%"
According to the results of a recent IDG study based on a survey of 600 cloud-using companies, organizations in the cloud report more quantifiable benefits coupled with deeper transformative value, including improved customer satisfaction.
"Our aim is to bring best-of-the-breed services together and demonstrate harnessing the possibilities through Cloud," said Gaurav Mohan, Sr. Vice President and Client Partner at Clovity. "Our clients are experiencing Connected Devices & Big Data lead digital transformation which are best supported by the cloud, and developing end-to-end solutions on Cloud helps them to bring innovation and agility to the core of their digital transformation journeys."
About Clovity
As a Global Top 20 IoT Solutions Provider for 2017 & 2018 by CIO Magazine. Thinking "Agile | IoT | Embedded | Data | ML | AI | Cloud | DevOps | Digital" - Clovity a global Solutions Partner and Systems Integrator focused on transforming enterprises worldwide.
Clovity's technology and teams are helping Fortune 500 enterprises and high growth mid-market technology enterprises with fully integrated device-to-cloud-to-enterprise integration solutions with the outcome to simplify building your Internet of Things (IoT), Data, Cloud & Digital platforms to power tomorrow's Enterprise world.
Clovity's cognitive strength lies in the amalgamation of two powerful ideas - collaboration and transformity.
Clovity emphasizes on combining thought leadership, innovation and passion for technology together to achieve successful transformation and 'disruptive solutions' for Banking Finance, Healthcare and Retail industries that are IoT, Cloud, Consumerization and Big Data' focused.
Clovity's commitment to innovation has led to many Plug and Play solutions and frameworks in IoT (CSensorNet), Predictive Analytics (CDataInsights), DevOps, Mobility etc. that enables customers for faster time to market product launches.
Clovity underpins its solutions with 'deep Agile expertise' by leveraging its Agile Framework: Synthesis in every aspect of customer journey to ensure complete collaboration and transparency. Clovity's key is to work in absolute synchrony with customers to deliver solutions and projects to create scalable technology foundation and architecture for all future advancements.