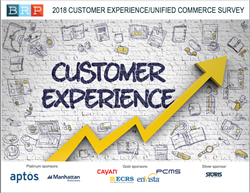 While most consumers expect the ability to shop seamlessly across channels, only 7% of retailers currently provide a complete unified commerce experience by allowing a customer to 'start the sale anywhere, finish the sale anywhere.'
(PRWEB) May 24, 2018
According to a new report from BRP, rapidly evolving customer expectations are driving a major transformation in retail. The 2018 Customer Experience/Unified Commerce Survey combines research on customer expectations with survey findings on retailers' current capabilities and future plans to highlight areas of opportunities for retailers. As consumers will often stop shopping a brand after just one bad customer moment, it becomes critical for retailers to make the shopping experience seamless and frictionless.
"While most consumers expect the ability to shop seamlessly across channels, only 7% of retailers currently provide a complete unified commerce experience by allowing a customer to 'start the sale anywhere, finish the sale anywhere,' with another 50% planning to implement it in three years," said Perry Kramer, senior vice president and practice lead at BRP. "With customer expectations continuing to rise, it is promising to see how many retailers are focused on adding new capabilities to enhance the shopping experience."
BRP's 2018 Customer Experience/Unified Commerce Survey of top North American retailers offers insights into retailers' current priorities and initiatives as digital and physical retail environments converge to facilitate a seamless experience across channels. The report also compares retailers' priorities with customer expectations – based on recent results from the 2018 Retail Consumer Study conducted by Incisiv and sponsored by BRP and Windstream Enterprise – to understand how retailer priorities align with customer expectations.
The key survey findings are organized around the E5 of Customer Experience:
1. Educate – Customers start the purchasing process by researching the brand and products so it is critical to ensure they and the store associates have information and tools that are easy to access and use.

62% of consumers check reviews/ratings before visiting a store
61% of retailers offer consumer product reviews for research
2. Engage – The first step in customer engagement is to identify the customer early in the process and offer associates the ability to leverage customer information to allow personalized interaction.
64% of consumers are fine with retailers saving purchase history and personal perferences if more personalization is offered
61% of retailers make in-store and online shopping history available to associates to tailor the customer experience
3. Execute – To meet and exceed today's elevated customer expectations, retailers must deliver unified commerce capabilities and empower associates with the right tools to optimize the experience.
73% of consumers want the ability to track orders across all points of interaction
42% of retailers offer the ability to track orders across channels
4. Enhance – Gathering feedback to understand customers' likes and dislikes allows for a continuous improvement loop and helps empower associates to create a desired customer experience.
51% of consumers will stop shopping at a retailer after 1-2 poor in-store shopping trips
62% of retailers plan to improve their in-store customer experience within three years
5. Enablers – Delivering a personalized customer experience requires the right technology and network.
68% of consumers are more likely to choose a store offering an automated returns process
13% of retailers offer an automated returns process
To download the complete 2018 Customer Experience/Unified Commerce Survey, visit:
https://brpconsulting.com/download/2018-unified-commerce-survey/.
The 2018 Customer Experience/Unified Commerce Survey platinum sponsors are Aptos and Manhattan Associates, gold sponsors are Cayan, ECRS, enVista and PCMS, and the silver sponsor is STORIS.
About BRP
BRP is an innovative retail management consulting firm dedicated to providing superior service and enduring value to our clients. BRP combines its consultants' deep retail business knowledge and cross-functional capabilities to deliver superior design and implementation of strategy, technology, and process solutions. The firm's unique combination of industry focus, knowledge-based approach, and rapid, end-to-end solution deployment helps clients to achieve their business potential. BRP's consulting services include:
Strategy | Business Intelligence | Business Process Optimization | Point of Sale (POS)
Mobile POS | Payment Security | E-Commerce | Store Systems and Operations | CRM
Unified Commerce | Customer Experience | Order Management | Networks
Merchandise Management | Supply Chain | Private Equity
For more information on BRP, visit http://www.brpconsulting.com.