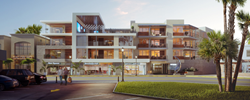 "image defining icon for the downtown core of Huntington Beach"
COSTA MESA, Calif. (PRWEB) May 22, 2018
Huntington Beach approved a mixed-use project on the last remaining vacant lot in their downtown core, located at 414 Main Street in Huntington Beach, California. The infill site is where Main Street takes an elbow heading inland from the pier. The vacant lot will become 20 for-sale luxury residences ranging in size from 1,150 – 1,800 square feet and offer 5,000 square feet of street level retail space.
The developer, Pete Zehnder of Collective Housing Supply Co., retained JZMK Partners to design an "image defining icon" for the downtown core of Huntington Beach. The iconic architectural element, a geometric abstraction of a wave, highlights the rooftop deck that in turn offers a unique view right down Main Street to the pier, with views of the ocean beyond.
This is the first project that JZMK Partners has used Virtual Reality (VR) technology to help communicate the project design at every phase of design and entitlement. "We used VR presentation technology to present the integrated design to the client, the investors, the planning staff, the planning commission, city council members and most importantly to the community. By utilizing VR, all stakeholders were able to understand the project intuitively by virtually experiencing the completed project long before construction begins" according to Eric Zuziak, President at JZMK Partners. "This technology represents a major disruptive change in the way we create, experience, and communicate our architecture and urban planning to everyone. It is a very effective and highly valuable tool that we now use on every project in one form or another".
This project is the first to be approved under the new Huntington Beach Downtown Specific Plan Update.