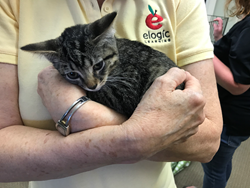 "Whiskers at Work was a great way for us to demonstrate to our staff that we care and that what we're doing makes the world a little bit better." - Mark Anderson, CEO of eLogic Learning
TAMPA, Fla. (PRWEB) May 29, 2018
When eLogic Learning employees returned from lunch on Monday, they were greeted by some fluffy friends – a hoard of adoptable dogs and cats from SPCA Tampa Bay via their Whiskers at Work program.
For a small donation, SPCA Tampa Bay will bring a group of dogs and cats (puppies and kittens aren't guaranteed, though eLogic was lucky enough to have some visit!), and possibly even some more exotic animals like rabbits and guinea pigs, depending on shelter availability. The visit normally lasts about 90 minutes and is a lot of fun for all!
Amongst the animals visiting eLogic were four puppies: Charlie, Schroder, Winston, and Schmidt; and three eight-week old kittens. SPCA Tampa Bay brought toys for the furry friends to play with and gave eLogic employees a chance to get away from their desks, provide some cuddles for these sweet dogs and cats, and come together around the team's shared love of animals. A couple of employees are even considering adopting some of the animals that visited!
The donation to SPCA Tampa Bay isn't the first time eLogic has donated to this type of organization. In fact, every time eLogic secures a new client or sale, they allow an employee or client to choose a charity for eLogic to donate to. Over the years, eLogic has donated thousands of dollars to animal shelters and other non-profits benefiting animals.
"Doesn't everybody love cats and dogs? Especially kittens and puppies? We certainly do! The SPCA shelters these animals and works hard to ensure they're adopted into good homes. eLogic believes in this worthy cause and will continue to support and aid them in their mission to transform the lives of animals," says Mark Anderson, CEO. "Here at eLogic, we have some great people working for us and we believe people should enjoy what they do and feel good about their purpose, both in their work life and personal life. Whiskers at Work was a great way for us to demonstrate to our staff that we care and that what we're doing makes the world a little bit better."
About eLogic Learning
A leader in the eLearning industry, eLogic Learning offers organizations world class, comprehensive LMS technology and content solutions increase efficiencies and productivity and a strong ROI. eLogic Learning's eSSential LMS supports over five million monthly users and was named the #1 LMS by The Craig Weiss Group, the #1 All-Purpose Extended Enterprise LMS by Talented Learning, and a Silver Award winner in the Best Advance in Learning Management Technology for Compliance Training from Brandon Hall. The eSSential LMS makes it easy to manage eLearning, instructor-led and virtual training events, keep up with regulatory compliance requirements, analyze training usage and results, sell courses online with robust ecommerce features, and much more.
In addition to its Learning Management System, eLogic develops custom eLearning content and provides an extensive third-party courseware library. With a comprehensive turnkey approach to implementing learning strategies, eLogic offers professional services and proven expertise in content strategy, business process changes, and the development of corporate training programs.
About Whiskers at Work
Would you like to help homeless pets and have fun at the same time? Sign up for a "Whiskers at Work" play date! Adoptable pets will visit your office/business and employees will be invited to participate in cuddle sessions with our animals. Whiskers at Work sessions are typically 90 minutes. Pet adoptions are not available during the event, but our staff and volunteers will be happy to provide information about how to adopt at our shelter in Largo. Proceeds benefit the animals at SPCA Tampa Bay.