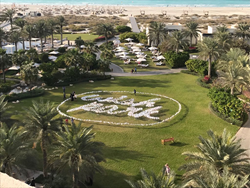 ABU DHABI, United Arab Emirates (PRWEB) May 25, 2018
Every guest, visitor and employee at the Hotel was invited to write their wish on their own pearl lustre pinwheel to be placed in the Wish Park and to be a part of the Guinness World Record breaking attempt for the largest pinwheel display in the world.
Launching the Wish Park on the central lawn of the hotel enabled an easily accessible space for participation and could be viewed from every part of the hotel. For some wanting to participate, but unable to travel their wishes were sent by email to include on pinwheels and plant and record them in the Wish Park. The timing of the Wish Park was designed to embrace all cultures, nationalities and ages with our employees, guests, clients, international visitors and Abu Dhabi and UAE residents who celebrate and make new year wishes for, positivity, future dreams and aspirations. Celebrating the Year of Sheikh Zayed in Abu Dhabi in 2018 the Wish Park was our small tribute to the nations significant accomplishments and the shared wishes for the vision for UAE.
December through February the pinwheel wishes were gathered, marking the New Years' holidays in December, Russian Old New Year in January and on the Eve of Chinese Lunar New Year on Thursday, February 15, 2018, we completed a recorded count of 2,222 wish pinwheels which broke the previous world record, completed in Nov 2017 in Kennedy Town, Hong Kong.
The video count evidence together with witness statements, images and a detailed log of all the efforts undertaken in this community engagement project were submitted to the Guinness World Records for verification. The wait was 3 months to complete the scrupulous process of verification by Guinness World Records which ensures absolute validation.
On May 18, 2018 the hotel officially received the confirmation that they had broken the previous world record and were 'officially amazing'.
Speaking on the occasion, Janet Abrahams, Director of Sales & Marketing, Park Hyatt Abu Dhabi: "Wishes really do come true and we are grateful to all the guests and visitors who engaged with us at Park Hyatt Abu Dhabi to create a unique Wish Park and achieve a first for Park Hyatt in the region with a Guinness World Record. It has been an unforgettable experience with so many happy moments we shared with every Wish Pinwheel we received and it has brought us closer to our community, both here in Abu Dhabi and with the many international guests who visited during the Wish Park. This is an achievement and award we share with every participant and it demonstrates across all cultures, we all have one shared wish for a happy future."
Official Site Link
http://www.guinnessworldrecords.com/world-records/374332-largest-display-of-toy-windmills-pinwheels
In the Picture
L-R- Simon Tibbs Head of Sales Operations UAE PSAV, Janet Abrahams Director Sales & Marketing Park Hyatt Abu Dhabi, Freya Jaffer Influencer and Counting Witness, Doris Hecht Hotel Manager Park Hyatt Abu Dhabi.