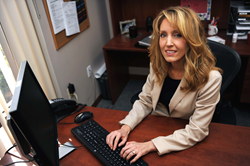 "VC firms that invest almost exclusively in male-led companies aren't just doing a disservice to women, but they may be limiting their own return on investment."
TAMPA, Fla. (PRWEB) May 29, 2018
New data reveals that venture capital (VC) investments remain heavily biased toward men—in 2017, companies with all-female founders closed 368 VC deals, compared to 5,588 deals for all-male teams and 1,046 for mixed-gender teams. Women-led startups also received a smaller share of VC dollars, landing just $1.9 billion (2.2%) of the $85 billion in VC investments last year and averaging $5.16 million per deal versus $11.97 million for male founders.(1) Yet evidence shows that women entrepreneurs often outperform males, both in VC portfolios(2) and in crowdfunding campaigns(3, 4) Monica Eaton-Cardone, an entrepreneur and IT executive specializing in risk management and fraud prevention, urges venture capitalists to promote greater diversity within their firms and investment portfolios and to allocate more funding for women in business.
Researchers found that male-led tech companies were nearly twice as likely as female-led startups to receive funding from male investors, and they determined the preference was a matter of "taste-based discrimination," including "outright sexism" and other subtler factors.(5) This implicit bias—coupled with the fact that women represent just 8% of partners at top VC firms(1) and only 10% of all venture capitalists(5)—may help explain why male-led companies continue to receive a disproportionate share of VC deals and funding. Yet when First Round Capital analyzed its investments over a 10-year period, it found that companies with at least one female founder performed 63% better than those with all-male founders, and three of its top-10 investments had at least one female founder.(2)
In the world of crowdfunding, where women and men have an equal opportunity to vote with their dollars, females have fared better than their male counterparts. An analysis by PwC noted that female-led campaigns are 32% more successful than male-led ones, with success rates of 22% and 17%, respectively.(3) Women even performed better in traditionally male-dominated sectors, achieving a 13% success rate to males' 10% in technology and a 16% success rate to males' 9% in digital technology.(3) Another study found women are 13% more likely to be successful than men in trying to raise the same amount of money for the same type of project; and in the case of technology campaigns, women met their fundraising goals 65% of the time compared to just 30% for men.(4)
"VC firms that invest almost exclusively in male-led companies aren't just doing a disservice to women, but they may be limiting their own return on investment," said Eaton-Cardone, who is the co-founder and Chief Information Officer (CIO) of Global Risk Technologies and the founder and Chief Operating Officer (COO) of Chargebacks911. "Evidence clearly reveals a solid track record of success among women founders in business and technology. Male investors need to come to terms with their own biases and make an effort to seek out and fund female-led ventures. Otherwise, they may soon find themselves outperformed by a new breed of VC firms that seek to provide more opportunities for female founders."
PitchBook recently highlighted 22 VC firms that are actively investing in female-founded companies, including New Enterprise Associates, Right Side Capital Management, First Round Capital and Golden Seeds, which focuses solely on women-led businesses.(6) Several other funds that invest exclusively in women-led startups include The Helm, Female Founders Fund and Flybridge Capital's new seed fund, XFactor Ventures. Chip Hazard, a general partner at Flybridge and an investment partner at XFactor, spearheaded an initiative called Start With Eight after realizing 90% of his investment meetings were with men. In advance of International Women's Day, he called on fellow investors to commit to take eight meetings with women outside their networks throughout March 2018; in response, more than 40 venture funds made the pledge to #StartWithEight.(7)
After several of the VC industry's most powerful men were accused of sexual harassment and discrimination last year,(1) Eaton-Cardone says investors need to step up and show their support for women entrepreneurs with more than mere words. "Women in business and technology deserve to be given a fair shot at funding. Not only is it the right thing to do, but it's a smart move for those who aim to maximize their investment opportunities and ROI," she asserted. Eaton-Cardone suggests several ways VC investors can champion women:

Commit to meet with female entrepreneurs, whether you #StartWithEight or go even bigger.
Allocate a set amount to invest in female-led businesses, which can help you break male-centric investing habits and seek out promising new opportunities.
Appoint more women to decision-making positions in funds, which can help overcome the usual male-funding bias and promote a more diverse portfolio.
Provide constructive feedback to female entrepreneurs if you opt not to fund them, which can help them fine-tune their pitch, improve their business plan or come back with an even better product.
Monica Eaton-Cardone is happy to share her insights on the advantages of investing in female-led startups and she welcomes the opportunity to connect with fellow female entrepreneurs at industry conferences and events, where she frequently presents on topics relating to fraud prevention, financial technology (FinTech) and security best practices. She is also available for interviews and future speaking engagements. For more information, visit http://monicaec.com.
About Monica Eaton-Cardone:
Monica Eaton-Cardone is an accomplished entrepreneur, speaker, author and industry thought leader who is internationally recognized for her expertise in risk management, chargeback mitigation, fraud prevention and merchant education. Eaton-Cardone found her calling as an entrepreneur when she sold her first business at the age of 19. She later became an eCommerce merchant; and after grappling with chargebacks and fraud, she took it upon herself to develop a comprehensive, robust solution that combined agile technologies and human insights. Today, Eaton-Cardone's innovations are helping thousands of organizations achieve sustainable growth, and she continues to pioneer loss-prevention best practices as CIO of Global Risk Technologies and COO of Chargebacks911. Eaton-Cardone is a champion of women in IT and business leadership, and aims to inspire the next generation of young innovators through her nonprofit organization, Get Paid for Grades. Get to know her at http://www.monicaec.com.
1. Zarya, Valentina. "Female Founders Got 2% of Venture Capital Dollars in 2017"; Fortune; January 31, 2018.
2. First Round Capital. 10 Year Project; July 2015.
3. PwC and The Crowdfunding Center. Women Unbound: Unleashing Female Entrepreneurial Potential; July 2017.
4. Lu, Jiaxi. "Study: Women Are More Likely to Succeed in Kickstarter Projects Than Men"; The Washington Post; August 15, 2014.
5. California Institute of Technology. "Female Tech Entrepreneurs Hampered by Bias Among Male Investors, Study Finds"; Caltech news release posted November 16, 2017.
6. Clark, Kate. "22 VC Firms Investing in Female-Founded Companies"; PitchBook; updated February 22, 2018.
7. Rosen Andy. "Looking to Hire More Women in Tech? Try Meeting With Some"; The Boston Globe; March 27, 2018.