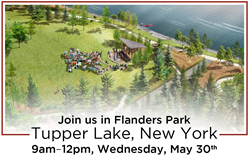 Raising a timber frame is an important and exciting community event–it offers a chance to witness the culmination of months of effort and years of planning.
FARMINGTON, N.Y. (PRWEB) May 26, 2018
With community support, Flanders Park is in the process of being transformed into an inviting outdoor performance area. A performance bandshell, crafted with traditional timber frame joinery by New Energy Works Timberframers, will be raised Wednesday, May 30, 2018 from 9am to 12pm in Tupper Lake, NY. The community is invited to attend this raising event.
"Raising a timber frame is an important and exciting event–it offers a chance to witness the culmination of months of painstaking effort of an age-old craft where the bones of the project come together," explains Eric Fraser, General Manager of timber framing at New Energy Works.
A combination of solid and glulam Douglas fir timbers will be joined using traditional mortise and tenons, secured with hardwood pegs. The New Energy Works craftsmen will employ a crane for the heaviest lifts and will install a t&g ceiling over the raised frame. The raising will begin on Wednesday morning at 9am, May 30th with estimated completion by noon the same day (weather permitting).
New Energy Works has been working with Andrew Chary Architect and Sellers Treybal Structural Engineers on designing, building, and crafting the bandshell. The bandshell was designed and is being constructed with funding provided by the New York State Department of State under Title 11 of the Environmental Protection Fund, as well as community donations, volunteer efforts, and local contractor donated services.
Terraced hillside amphitheater seating will face the new bandshell overlooking Racquette Pond. Other numerous enhancements to the existing park include a rain garden that will help with drainage around the bandshell, a stone plaza, gateway structures, and more landscaping elements.
New Energy Works designs and builds environmentally responsible timber frames across the USA from their New York and Oregon facilities. The company offers Timber Framing (design, engineering, manufacturing, build), Enclosure Systems, Fine Woodworking, Recycled and Sustainable wood products. New Energy Works has LEED AP staff members, is a member of the US Green Building Council, and is FSC Certified.