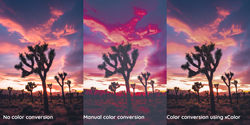 "xColor is a such an easy way to ensure great color. Very user friendly, and we were impressed by the speed and accuracy of the conversions."
LONDON (PRWEB) May 30, 2018
Today, Specle Ltd announces the release of xColor– a new cloud-based color management tool. xColor enables native cloud-based color conversion, seamless integrations with utilities like Dropbox, and global location management at startup-friendly prices. Unlike traditional color management solutions, xColor is completely cloud-based, offers a free trial and transparent SaaS-based pricing, without locking customer into long-term contracts.
"The xColor system was developed atop extensive client feedback. Clients wanted an affordable cloud-based color management system, available across multiple locations without robust licensing constraints. xColor satisfies that customer demand and delivers simple, fast, accurate color management for users worldwide," says xColor, CEO, Simon Murray. "We've been working with clients in this space for years, so in many ways, we knew exactly what they were looking for."
All xColor users are offered a 30-day free trial that includes:
+ Queue and conversion management
+ Unlimited color conversion
+ Conversions within a wide range of profiles
+ Dropbox integration
Agencies like Cousin have already integrated xColor into their workflow. Here is what their Production Director, Peter Stephens, had to say:
"xColor is a such an easy way to ensure great colour. Very user friendly, and we were impressed by the speed and accuracy of the conversions."
xColor technology uses sophisticated DeviceLink profiles to convert between color spaces and help ensure marketing consistency and brand recognition. Because xColor is cloud-based, new profiles and features get automatically pushed to every user of the service. The system has huge processing power, with the capacity to color manage entire magazines or catalogues at remarkable speeds.
To start the free trial and learn more about xColor, visit xcolor.io.
ABOUT xCOLOR
xColor is a cloud-based color management tool designed for designers, freelancers, studios, agencies and the enterprise. xColor's DeviceLink system color converts small, large, and multiple page files in seconds. xColor is setting out to replace the complex hardware and software solutions traditionally needed to perform professional color conversion and management.
ABOUT SPECLE LTD
Specle Limited, the developer of xColor, is the UK's leading print ad validation, automated workflow and overall ad management service. Specle offers color conversion and campaign management, including OOH / DOOH management direct to brands and agencies; such as McCann Worldgroup, VCCP, Schawk and Wellcom, and provides media owners such as Condé Nast Britain, The Economist, DMGT and Primesight with ad validation and management portals backed by expert customer service for end users.