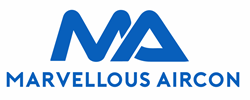 Very prompt response from Miss Tan via WhatsApp when requested for normal servicing for the next day (public holiday - labour day). Was glad that she was able to arrange for the timing that I have requested. The servicing personnel also arrived on the stipulated time and completed the job profession
(PRWEB) June 06, 2018
With more than 10 years of experience under its belt, Marvellous Aircon is currently Singapore's largest air conditioning maintenance provider which covers the area of repairing, installation and maintenance consultation.
Over the years, this company has gathered a large customer base due to its reliability and efficiency as the best aircon servicing provider. Using nothing but only the latest high-tech equipment, its team of "stand-by" engineers are quick to spot if there is any problem with their customer's air conditioning unit - be it only minimal or even the most serious of fault.
Marvellous Aircon prides itself as being an edge above others in the air conditioning service industry. There are three main features that sets Marvellous apart from its competitors out there - competitive servicing rates, 24/7 on demand aircon service and broad aircon expertise. First, Marvellous Aircon provides its customer with a "value-for-money" rate for every aircon servicing. Need to service a couple of units, but worry about the price? Fret not, as Marvellous Aircon allows you to service your first unit at $40 and any subsequent unit for just $15. Second, you can contact Marvellous Aircon be it day or night whenever you have an emergency aircon woe as the company is staffed with a 24/7 help desk team to assist you. Third, Marvellous Aircon has the right expertise to deal with various air conditioning brands and service requests.
Among the range of aircon services offered by Marvellous Aircon includes normal servicing, chemical wash, troubleshooting, chemical overhaul and gas topping. Regardless of the aircon servicing complexity, be rest assured that the team will still do its best to fully restore the unit to its optimum functioning. For starters, even the most normal of aircon servicing will not burn a hole in your pocket as all the rates are priced affordably. For example, costs for the first unit are only $40, and $15 for any subsequent unit(until 5) and $19/FCU for 6 units and above. As a bonus, the company has got everything covered for its valued customers; from cleaning the air filter to checking the compressor suction and vacuuming the drainage system.
From the official Marvellous Aircon website, customers can read more about the company's aircon services and charges. For online booking, all one have to do is by simply filling up the featured form and submitting it with their details where representatives from Marvellous Aircon will get back to him or her soonest. Otherwise, you can contact the company for further enquiries also by filling up the form below.
You can go to Marvellous Aircon Pte Ltd website at http://www.marvellous.sg or contact them by office phone at 6428 6288 or by mobile phone at 9094 9039. Visit their office at : Block 25 Woodlands Industrial Park E1 04-02 757743 Singapore.