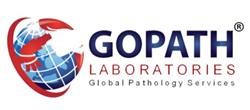 The miR-31now test can assist oncologists to select the most appropriate biologic therapy to be used in first-line in combination with chemotherapy for patients with metastatic KRAS/NRAS wild-type metastatic colorectal cancer
CHICAGO (PRWEB) June 01, 2018
GoPath Laboratories, a state-of-the-art CAP-accredited, CLIA-certified molecular diagnostic laboratory providing anatomic pathology, hematopathology, and cancer testing for clinicians, hospital systems, and pharmaceutical firms, announced today that the Company will launch a propriety new test, miR-31now™ during the 2018 American Society of Clinical Oncology (ASCO) Annual Meeting being held June 1-5, 2018 in Chicago (Booth #25105).
The miR-31now test is the first positive theranostic test for patients with metastatic colorectal cancer (mCRC). The test predicts the potential clinical benefits associated with first-line anti-EGFR therapy compared to anti-VEGF therapy or when second or further lines of treatment with anti-EGFR therapy is beneficial versus chemotherapy alone for patients with RAS wild type (WT) mCRC. The miR-31now test quantifies the expression of the miR-31-3p in formalin-fixed, paraffin-embedded (FFPE) tumor samples using standard quantitative reverse transcription PCR (RT-qPCR).[1]
GoPath previously announced the signing of a licensing agreement with IntegraGen, a French-based genomics services and biomarker discovery company, enabling the company to offer a miR-31-3p expression test to clinicians in North America. A recent study demonstrated that the expression level of miR-31-3p is predictive of both overall survival and response to treatment with anti-EGFR therapy.[2] This study also reported that mCRC patients whose miR-31-3p expression level is below a pre-defined threshold who were treated with FOLFIRI plus cetuximab have a one year longer median overall survival, a 40% reduction in mortality risk, and a better treatment response compared to patients treated with FOLFIRI plus bevacizumab.
The miR-31now test can assist oncologists to select the most appropriate biologic therapy to be used in first-line in combination with chemotherapy for patients with metastatic KRAS/NRAS wt metastatic colorectal cancer," said Gary Grad, M.D., medical oncologist, Northwest Oncology and Hematology, S.C. "By combining molecular profiles and expressions, such as miR-31-3p, with clinical correlative data, we will be better able to identify patients with KRAS/NRAS wt mCRC most likely to benefit by adding EGFR targeted therapy, like cetuximab, to cytotoxic therapy. As clinical correlations are validated, we will become more able to truly personalize optimal precision therapy for our patients."
"We are pleased to begin offering the miR-31now test to clinicians to assist them with therapy decisions which personalize and target therapies for patients with metastatic colorectal cancer," stated Dr. Jim Lu, CEO of GoPath Laboratories. "Since we are the only CLIA-certified lab in the U.S. that offers the ability to measure miR-31-3p expression in tumor samples, we anticipate a strong interest in this test as well as other complimentary tests we offer for mCRC patients, including our colon cancer profile test which detects RAS and other important mutations."
ABOUT METASTATIC COLORECTAL CANCER
Colorectal cancer is third most common cancer in both men and women with over 135,000 new cases in the United States on an annual basis.[3] An estimated 25% of patients with colorectal cancer will present with metastatic disease at the time of diagnostic with up to an additional 50% of patients developing mCRC following initial diagnosis.[4] An estimated 50,000 deaths from CRC occur in the U.S. every year, accounting for 8.3% of all cancer deaths and making it the 2nd most common cause of death from cancer in the U.S.[3]
ABOUT GOPATH LABORATORIES
GoPath Laboratories is a state-of-the-art molecular diagnostics laboratory offering anatomic pathology, hematopathology, and hereditary cancer testing services for clinicians, hospitals, and pharmaceutical firms. The company employs the latest molecular technology platforms including NGS, FISH, and microarray analysis to provide our clients with a better-defined diagnosis, personalized treatment options, risk prediction for cancer recurrence, and stratified immunoresponse in pharmaceutical research. GoPath takes pride in offering unparalleled TATs, exceptional customer service, and 24/7 access to reports.
Visit us at Booth #25105 during the 2018 ASCO Annual Meeting.
For more information, visit http://www.gopathlabs.com
References:
1. Ramon L, David C, Fontaine K, et al. Technical validation of a reverse-transcription quantitative polymerase chain reaction in vitro diagnostic test for the determination of mir-31-3p expression levels in formalin-fixed paraffin-embedded metastatic colorectal cancer tumor specimens. Biomarker Insights. 2018.
2. Laurent-Puig P, Grisoni ML, Heinemann V, et al. MiR-31-3p as a predictive biomarker of cetuximab efficacy effect in metastatic colorectal cancer (mCRC) patients enrolled in FIRE-3 study. J Clin Oncol. 2016; 34 (suppl; abstr 3516).
3. American Cancer Society, 2018.
4. Van Cutsem E, Cervantes A, Nordlinger B, Arnold D for the ESMO Guidelines Working Group. Metastatic colorectal cancer: ESMO Clinical Practice Guidelines for diagnosis, treatment and follow-up. Ann Oncol. 2014; 25 Suppl 3:iii1-9.