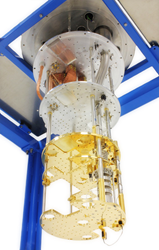 "We recognize that as data requirements increase, you can either pump more data through a single lane or expand the number of transmission lines. We want to allow our customers to do both." -Nat Stevens
HAMPTON, N.H. (PRWEB) June 06, 2018
Ardent Concepts, Inc., has begun shipping new form factors of its TR Multicoax connector to support the many unique challenges of Quantum Computing applications. Density, substantial environmental changes, and an increasing need for more high-speed lanes are causing quantum computer designers to rethink traditional routing methods. By utilizing superconducting materials like CuNi cables and the existing patented contact technology Ardent is known for, engineers will be able to drastically decrease real estate required by individual connectors and increase their channel count while improving signal integrity in their systems.
Traditionally, signals running through quantum computers are routed through groupings of individual connectors between isolation discs separating dilution chambers which reduce temperatures incrementally down to milliKelvin(mK) temperatures. This presents routing challenges due to the extremely high channel counts and concerns over connector transition failures. "We saw this as an opportunity to help customers working on quantum computing and other supercomputing applications address the inherent challenges of routing signals in such a confined space and at extreme temperatures.
The robustness of TR Multicoax combined with its high density, high bandwidth, solderless design, made it an ideal solution," said Nat Stevens, Director of Marketing. "With TR Multicoax, an engineer can connect 16 high-bandwidth channels in a matter of seconds with confidence that all lanes will be functional down to milliKelvin temps."
TR Multicoax series connectors are offered in a variety of channel counts and form factors, such as right angle cable escape, and can support speeds of 70 GHz+ with a roadmap to 110 GHz in the near future. "We recognize that as data requirements increase, you can either pump more data through a single lane or expand the number of transmission lines. We want to allow our customers to do both," said Stevens.
About Ardent Concepts:
Ardent Concepts is a leading designer and manufacturer of high performance multicoax assemblies, probes, connectors, and sockets used in the development of next generation semiconductors and electronics systems. Our core technology is the smallest, fastest, most electrically efficient compression mount connector technology worldwide. It is used to connect integrated circuits and printed circuit boards to instrumentation and to each other offering superior signal integrity in a high speed environment. Markets for our products include: Semiconductor, Test & Measurement, Military/Aerospace, Communications and Medical.