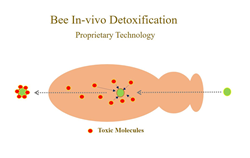 WSU's culture of innovation and entrepreneurship really embraced the Amazon Catalyst program
PULLMAN, Wash. (PRWEB) June 04, 2018
Amazon Catalyst program has awarded $177,735 in grants to 10 Washington State University teams comprised of students, faculty, and staff across disciplines and locations.
The collaborative program between Amazon and WSU launched early in 2018 to fund projects deemed globally impactful and disruptive.
What are the next inventions that will change how people live their lives and conduct business?
This is the question WSU's Amazon Catalyst Program applicants are looking to answer with their disruptive ideas, innovative projects and impactful inventions.
Funded Projects
Funded projects range from low-cost and environmentally-friendly material for road maintenance; to technology to help protect bees from pesticide exposure, preventing bee death and colony collapse; to soil microbes used as bio-pesticides to protect crops from devastating pests; to a new building material made from gypsum wallboard scrap, and many more innovative ideas.
"The Evaluation Committee was very impressed by the strong teams who presented their innovative projects and by their focus and commitment on moving their ideas forward," said H.B. Siegel, director of engineering in Amazon's Department of Ideas. "We are enthusiastic about the potential impact of these projects. The Amazon Catalyst at WSU Program will now work with the funded teams to help them identify additional services for continued success including connections to additional Amazon resources, inclusion in the Amazon Catalyst Fellows cohort, and continued educational opportunities at WSU, including the iCorps program and other resources offered by the Center for Entrepreneurial Studies."
WSU's goal, throughout each stage of the application cycle, is to attract innovative solutions to problems from students, faculty and staff representing a variety of academic units, with an emphasis on multidisciplinary teams. Funded projects represent the colleges of Civil and Environmental Engineering, Computer Science, Mechanical and Materials Engineering, Plant Pathology, Biological Systems Engineering, Chemical Engineering, Global Health, Business, and Design and Construction.
Winners join a community of innovators—Amazon Catalyst Fellows—who share a passion for finding innovative solutions to real-world problems.
"WSU's culture of innovation and entrepreneurship really embraced the Amazon Catalyst program," said Marie Mayes, director of the WSU Center for Entrepreneurial Studies. "We had 97 applicants from a strong cross section of multi-disciplinary teams across the university. That was very rewarding for us because our mission at the center is to provide greater entrepreneurial opportunities across WSU."
"The Amazon Catalyst at WSU Program was a fantastic success, but it doesn't stop there" says Brian Kraft, assistant vice president, innovation and research engagement, WSU Office of Research. "The next step for the Amazon Catalyst Fellows is to facilitate their continued entrepreneurial success by connecting them to the myriad programs available through the Center for Entrepreneurial Studies and the WSU Office of Research."
Grant recipients
The 2018 recipients and their winning projects are:

Low-cost, environmentally-conscious materials for road maintenance
o Recycled restaurant cooking oil waste and reclaimed asphalt are combined into a low-cost, recycled road paving material.
o Kun Zhang, faculty, School of Civil and Environmental Engineering
Bio-pesticides protecting crops from devastating pests
o An environmentally safer way to protect crop yield and quantity using bio-pesticides to fight underground crop pests.
o Lei Zhang, faculty, Department of Plant Pathology
Reducing bee mortality and colony collapse through pesticide fighters
o A combination of microparticles mixed with bee feed that protects bees from the harmful effects of encountering pesticides during pollination.
o Waled Suliman, postdoctoral student, School of Biological and Systems Engineering
New wound dressing for advanced wound management
o An electrochemical scaffold wound dressing that treats infections and stimulates healing by continuously generating antimicrobial agents in wounds.
o Abdelrhman Mohamed, graduate student, School of Chemical Engineering
The first hybrid hydrogen fuel cell electric vehicle in the Pacific Northwest
o Retrofitting of an existing battery-electric Zenn car to enable recharging with a modular, on-board, hydrogen fuel-cell system.
o Jacob Leachman, tenured faculty, School of Mechanical Engineering
Medical condition-specific air quality forecasts and warnings
o The Cardiopulmonary Events from Smoke Estimator (CENSE) will evaluate smoke particulate pollution information and convert it into air quality forecasts for medical condition specific warnings, and deliver these warning to caregivers and patients in high-risk populations.
o Joseph Vaughan, faculty, School of Civil and Environmental Engineering
Drywall Waste Block: a new building material
o The Drywall Waste Block converts low-value gypsum wallboard scrap waste into a high performance building material that is inexpensive to produce, easy to build with and provides energy-efficient and affordable homes for people in need.
o Taiji Miyasaka, tenured faculty, School of Design and Construction
Kulé© Tech: smart-thermometers for safer milk
o Creating and deploying smart-thermometers among the pastoral Maasai in Tanzania to increase milk pasteurization knowledge and habits through the use of culturally-targeted solution that limits the transmission of antimicrobial resistance among the tribes, making milk safer and people healthier.
o Mark Caudell, tenured faculty, Paul Allen School for Global Animal Health
o An accurate and efficient way to retrieve information and dispatch it effectively in an emergency situation.
o Shusanta Bhattarai, undergraduate student, Department of Computer Science
o An app for epinepherine users that helps people with severe allergies and reactions to track their EpiPens, manage their medication supply and notify caretakers of a reaction emergency.
o David Kurz, undergraduate student, Entrepreneruship
Learn more about grant recipients and keep up on project updates at: https://catalyst.amazon.com/wsu/
Media Contacts:
Meagan Garrett, consultant, Brand Venture Consulting, 509-475-0028, meagan(at)brandventureconsulting.com
Marie Mayes, director, Center for Entrepreneurial Studies, WSU Carson College of Business, 509-335-5628, mmayes(at)wsu.edu
Brian Kraft, assistant vice president, innovation and research engagement, WSU Office of Research, 509-335-3959, bkraft(at)wsu.edu