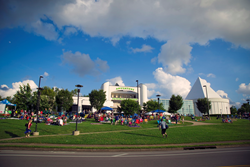 "We're always looking for ways to improve our unique experience, to keep it relevant, and to inspire people to embrace science in new ways" - Steve Hinkley, President & CEO of Adventure Science Center
NASHVILLE (PRWEB) June 06, 2018
Adventure Science Center is excited to announce a new monthly lineup of events and programming designed to engage audiences of all ages and a new schedule starting this July. Highlights of these changes include 12 different monthly themes exploring a variety of science, technology, engineering, art, and mathematics-related topics (STEAM) through creative daily programming, activities, guest speakers, and labs. The science center will stay open late every second Saturday, increasing access for guests and time to explore. The last Saturday of the month, guests can enjoy a variety of drop-in labs that allow guests to participate in hands-on science individually or with friends and family.
"The new programs and schedules are representative of the many exciting changes and innovative projects going on at Adventure Science Center. We're always looking for ways to improve our unique experience, to keep it relevant, and to inspire people to embrace science in new ways," said Steve Hinkley, President & CEO.
All events and programs listed below begin July 1, 2018, unless otherwise noted.
New Monthly Science Themes
July 2018-June 2019
Each month, Adventure Science Center guests can explore a different STEAM-related topic with daily live science demonstrations and hands-on activities, as well as special programs and events detailed in the sections below. This year's programming themes are as follows:

July – "Dive In" (Marine Biology)
August – "Blast Off" (Space Exploration)
September – "Make It" (Maker Movement)
October – "Get Spooky" (Halloween Science)
November – "Chow Down" (Food Science)
December – "Winter Wonders" (Seasonal Science)
January 2019 – "Discoveries Today" (Science Innovations)
February 2019 – "Build It" (Engineering)
March 2019 – "Matter Madness" (Matter & Chemistry)
April 2019 – "Go Green" (Earth Science & Sustainability)
May 2019 – "Get Moving" (Sports & Dance)
June 2019 – "Make Music" (Music & Sound)
New Super Science Saturdays
First Saturday of each month from 10am to 4pm
2018: July 7, August 4, September 1, October 6, November 3, December 1
2019: January 5, February 2, March 2, April 6, May 4, June 1
These blowout science celebrations will launch the new STEAM theme of the month with special hands-on activities, Science Live! demonstrations, games, and activities by special community partners. Super Science Saturdays kick off the month-long exploration of each topic, helping guests further explore the month's theme and highlighting community businesses, institutions, and partners. All activities and demonstrations are free with the price of admission, unless otherwise noted on the website.
New Extended Hours
Second Saturday of each month from 10am to 10pm
2018: July 14, August 11, September 8, October 13, November 10, December 8
2019: January 12, February 9, March 9, April 13, May 11, June 8
The science center will remain open until 10pm on these dates (an extra 5 hours) to allow guests more time and access to all the exhibits and activities. From 6:30pm to 10pm, Sudekum Planetarium will continue to offer the popular Second Saturday live shows, documentary-style features, and laser shows, but with the added option of museum exploration until 10pm. Regular daily museum admission and planetarium show pricing will continue through the evening, but evening guests can purchase additional planetarium shows for the discounted price of $5.
New Family Fun Labs
Last Saturday of each month
2018: July 28, August 25, September 29, October 27, November 24, December 29
2019: January 5, February 23, March 30, April 27, May 25, June 29
These casual, hands-on science labs will feature a variety of activities and require no pre-registration or additional fees beyond museum admission. Guests can drop in alone or with friends and family to enjoy a more in-depth exploration of the month's theme. Each lab will offer a variety of activities in a range of levels to provide every guest with a chance to engage, create, and learn something new. Family Fun Labs are included with the price of admission to the science center.
Summer Laser Shows
Lasers every afternoon, times vary
May 28, 2018 – September 3, 2018
Adventure Science Center is turning up the volume on its typical summer series in Sudekum Planetarium by offering laser shows every afternoon Memorial Day weekend through Labor Day weekend. Some highlights in the lineup include Laser Country during CMA Music Fest, Laser Pride during Nashville Pride Festival and on the first-ever LGBTSTEM Day, and Laser America on Independence Day. Additional ticket purchase required.
Twilight Special
Everyday beginning June 2, 2018 (2 hours prior to closing of the science center)
Beginning June 2, guests who purchase general admission or combination tickets onsite two hours prior* to the science center closing will enjoy free general admission to the science center on the following day. To redeem this special offer, guests will need to show their admission receipt from the prior day.
*Twilight Special will begin at 3pm, except on Second Saturdays when it will begin at 8pm. Free admission is only valid for the day after the date the ticket was purchased.
Member Mornings
Last Saturday of each month from 8:30am to 10am
2018: July 28, August 25, September 29, October 27, November 24, December 29
2019: January 5, February 23, March 30, April 27, May 25, June 29
Along with all of these new offerings, Adventure Science Center Members can take advantage of a special new perk – members-only museum hours. From 8:30 to 10am, members can enjoy an exclusive opportunity to explore the exhibitions before the science center opens to the public at 10am.
Yoga Under the Stars in Sudekum Planetarium is also held on the last Saturdays of the month. Non-Member yoga attendees' access will continue to be limited to Sudekum Planetarium only.
# # #
About Adventure Science Center
For more than 70 years, Adventure Science Center has been bringing science to life for students, teachers and families in Middle Tennessee and across the U.S. The Science Center offers engaging learning experiences and science fun through hands-on, interactive exhibits; innovative programs; and fulldome productions in state-of-the-art Sudekum Planetarium. Adventure Science Center strives to open every mind to the wonders of science and technology, fostering a better understanding of ourselves and the world around us.
Adventure Science Center is located at 800 Fort Negley Blvd. in Nashville.
For more information, visit AdventureSci.org or call Alexis McCoy, Director of Marketing and Communications, at (615) 669-5094.