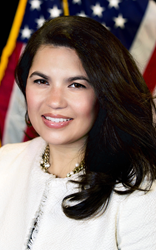 WASHINGTON (PRWEB) June 13, 2018
The National Women's Business Council (NWBC) today announces the appointment of Nina Roque as Executive Director. Nina recently served as Special Assistant to the Secretary of Labor, R. Alexander Acosta, where her portfolio included apprenticeships and women in the workforce, among other policy initiatives. Prior to joining the Administration, she was the Director of Programs and External Affairs for the Congressional Hispanic Leadership Institute (CHLI), a non-profit, non-partisan organization that focuses on youth development and leadership, public service and corporate responsibility. Previously, Nina was an Associate Attorney at a law firm in Raleigh, North Carolina, where she represented employers. Nina also served as a Law Clerk at the North Carolina Industrial Commission, a quasi-judicial agency in the State of North Carolina. Nina holds a Bachelor of Arts degree in Political Science and Criminology from Florida State University (FSU), and a Juris Doctorate from Hofstra University School of Law.
Throughout her career in the public, private and nonprofit sectors, Nina has dedicated herself to the advancement of the American workforce. Nina is a second-generation Cuban-American, who is passionate about mentoring youth leadership, empowering the American worker to succeed, and fostering an economy that allows women entrepreneurs to thrive.
"It is an honor to join the National Women's Business Council, the federal government's only non-partisan, independent voice for women entrepreneurs," Roque said. "I look forward to having the opportunity to work with the members of this Council and the millions of women business owners across this country, as we continue to empower women to succeed in business."
###
About NWBC
NWBC is a non-partisan federal advisory council created to serve as an independent source of advice and counsel to the President, the Congress, and the Administrator of the U.S. Small Business Administration (SBA) on issues of impact and importance to women business owners, leaders, and entrepreneurs. To learn more about NWBC, visit http://www.nwbc.gov