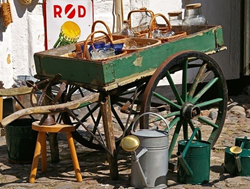 "If 183FLEA Market is free for sellers and on busy Highway 183, Count me in!" John Cline Eddyville, Nebraska
SARGENT, Neb. (PRWEB) June 12, 2018
Earthjunk has free spaces for anyone wanting to earn cash at 183Flea Market. This event celebrates Earthjunk's 20th Anniversary. 183Flea Market is a Thank You to all Nebraskans and out of state Earthjunk customers who traveled to the scenic Sandhills the past two decades.
The first ever 183Flea Market needs vendors to join Eddyville John and the Sargent Antique Stores, better known as The Antique Capital of Nebraska. Antique Dealers, Artists, Crafters, Farmers, Food Trucks, Home - Based Businesses, Organizations needing a fund raiser and all others are welcome to sell at no cost in a space as large or small as they want. Come to Sargent and make money starting June 29th. Sign up here. Sargent is home to more than ten Antique and Speciality shops loaded full of used furniture, home decor, primitives, glassware, cookie jars, and more collectibles. As always, the Sargent Antique Stores have the fabulous selection which both collectors and dealers have discovered exists at Nebraska's Antique Capital.
Everyone will enjoy free admission, browsing and parking. Another opportunity presented is for all single buyers and sellers. Finding someone special is often difficult. 183Flea has a simple solution; wear a white T shirt or blouse and meet someone else wearing white in a safe small town informal setting. At 183Flea Market, buyers do not know whom or what they will fall in love with! Expect the unexpected at 183Flea Market such as: 100% free, custom sized spaces; a major highway, nice singles wearing white, great prices, and an enormous variety!
Earthjunk is an online business in Sargent, Nebraska owned by John and Cindee Haddix. Earthjunk specializes in like new used Ethan Allen, Tell City Chair Co. and other American Made Investment Grade furniture brands. Earthjunk has over 2000 pieces of furniture in stock, one-third of which are online. With Earthjunk's Anniversary sale in progress, picking up furniture in Sargent has never been cheaper.
For more information, please contact Cindee or John at 402-350-6740 or email earthjunk@earthjunk.com. To learn more about 183Flea visit 183Flea.com Please like us on facebook.
Thanks for spreading the word about the free 183Flea Market!