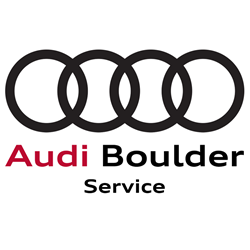 Leaving Boulder and abandoning our roots was never part of the plan
BOULDER, Colo. (PRWEB) June 09, 2018
Some would call it "getting the band back together", others would say it's a revival. In its simplest form, Audi returns to Boulder with the re-opening of Audi Boulder Service. "Leaving Boulder and abandoning our roots was never part of the plan," says Ryan Watson, General Manager of the newly reopened store.
An update to the store's interior, along with re-opening the service center and sales department has been in development since the launch of the new facility, Audi Flatirons. "I grew up in Boulder, there's a historical value to the store in Boulder and it's where all of our opportunities started. We owe it to our customers and the community to be of service," said Ryan Watson, GM.
"We couldn't be happier to re-open our Service Center and offer a Pre-owned Luxury inventory selection in Boulder. We've stocked Audi models and various brands that fit the many attributes of Boulder's lifestyle. I'm looking forward to continuing our commitment in Boulder where the dealership's heritage started over 40 years ago," says Watson. Investing into the community and various community initiatives has been one of our biggest priorities at Audi Boulder Service and will continue to be.
Audi Boulder Service is located in Boulder, CO and was remodeled in August of 2017: learn more about the store and history at https://www.audiboulderservice.com/dealership/about.htm
Audi's values lie in providing a meaningful experience to customers, reflecting relevance to their motivations in shopping for a desirable automobile, one that fits their lifestyle and needs. While providing many options from service to pre-owned sales, Audi Boulder Service and its staff are committed to the relationship, from the first mile to the last.
About Audi Boulder:
Audi Boulder, established in 2013, is a member of the Holman Automotive family of dealerships. Holman Automotive, still held by the family, has been committed to delivering extraordinary customer experiences and giving back to the community since 1924. Audi Boulder will continue to operate in the Boulder location as Audi Boulder Service alongside the new "Audi Flatirons." Audi Flatirons will host a new showroom, Audi's most desirable models, with one of the largest selections of new Audi's in Colorado. For more information on the company, visit http://www.AudiBoulderService.com & http://www.AudiFlatirons.com
###