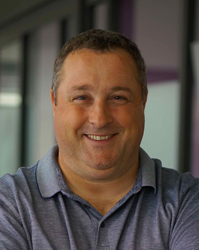 "We're opening our UK office to be more accessible and responsive to the needs of our growing partner base in EMEA." - Marc Morin, Auvik CEO
WATERLOO, Ontario (PRWEB) June 07, 2018
Scott Tyson, a veteran sales leader in the IT channel, has joined Auvik Networks as Managing Director, EMEA. Auvik is a fast-growing provider of network management software for managed service providers (MSPs).
With almost two decades in the IT channel, Tyson will be responsible for managing regional operations from Auvik's UK office. Most recently he was head of global sales at Inbay, where he drove significant business and partner growth in EMEA, North America, Australia, and New Zealand. He also founded the company's first international office in the U.S. and is most proud of contributing to the personal and professional growth of his team.
"Auvik is well-respected, growing rapidly, and has built a solid partner base here in the UK," said Tyson. "With this foundation and the company's commitment to investing in EMEA, I jumped at the opportunity to help with the company's global expansion." Auvik has been on a significant growth trajectory over the past year, more than doubling both its partner base and employee headcount.
"We're opening our UK office to be more accessible and responsive to the needs of our growing partner base in EMEA," said Marc Morin, CEO of Auvik. "Scott is equally as committed to contributing to the industry as he is about inspiring those around him to reach their potential. He has developed relationships with many partners and vendors, and has extensive experience serving the MSP market—skills we were looking for to lead our growth in the region."
The company launched into the UK in 2018, attending many regional events, including IT Nation Europe, Continuum European Partner Day, SolarWinds Empower, Datto roadshows, HTG user groups, and Network Group events.
Feedback from local partners has already influenced product development. Auvik recently released support for Draytek devices and will be opening a European data centre later this year.
For more information about Auvik's network management for MSPs, visit http://www.auvik.com.
About Auvik Networks
Auvik's cloud-based software simplifies and automates network monitoring and management for IT managed service providers. Auvik gives MSPs better visibility, documentation, and monitoring for their client networks, and automates many time-consuming network tasks. With Auvik, MSPs have an efficient and profitable way to manage their client networks. Visit http://www.auvik.com or follow @AuvikNetworks on Twitter. Auvik is a registered trademark of Auvik Networks Inc.