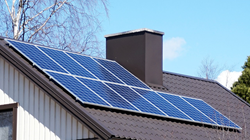 (PRWEB) June 07, 2018
Solar power is the most accessible it's been in years, and shows no signs of slowing down. With the recent ruling put forth by the California Energy Commission, new homes and low-rise apartment buildings all across California must include solar panels. This ruling now faces approval by the state's Building Standards Commission, where it is expected to be approved easily.
With many towns and municipalities following suit, America is seeing more solar panels being installed than ever before. But with every new innovation comes a nuisance that gets in the way. Aside from a cloudy day, solar panels' worst enemy is a nesting bird. Many pest birds have been found nesting underneath rooftop solar panels; a place of constant shade and protection from predator birds. While the birds may think they've hit the jackpot, the owners of these panels tend to disagree. Bird droppings are not only messy and unsightly, but also can be highly corrosive and damaging to expensive solar panels.
By installing PVC-coated hardware cloth around the perimeter of panels, the gap between the panel and the roof is eliminated, keeping birds out from underneath without harsh chemicals or unsafe traps. The rigid PVC-coated hardware cloth is secured in place with Bird-X Solar Clips. This is an easy solution that requires no maintenance. For more information on Bird-X Solar Clips and installation tips to protect solar panels, call Bird-X's team of experts for a free consultation at 800-662-5021 or reach out via their Free Evaluation page on their website.
Physical barriers are the most effective way to keep birds off of a treated area. It is a one-time solution when installed properly.
Bird-X, Inc. has spent over 50 years protecting public areas from over 60 bird-spread transmissible diseases. The leading international brand of humane bird control solutions, this Chicago-based company manufactures a complete line of unique bird control products, protecting the health of humans, wildlife, and the environment by deterring birds from unwanted areas without harming them.
For information on any of Bird-X's humane pest control products, please call customer service at (800) 662-5021.