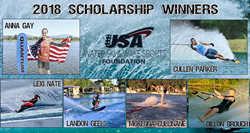 USA-WWF is proud to honor these six student athletes who exemplify excellence through their water skiing success, academic achievements and community service. -Tracy Mattes
POLK CITY, Fla. (PRWEB) June 11, 2018
The USA Water Ski and Wake Sports Foundation scholarships are awarded each year to water skiers who best represent through achievements in academics and sports what it means to be an ambassador and an athlete; and whose contributions to school and community set them apart in a special way.
"USA Water Ski & Wake Sports Foundation is proud to honor these six student athletes who exemplify excellence through their water skiing success, academic achievements and community service," said USA-WWF Executive Director Tracy Mattes. "We congratulate the scholarship recipients on their accomplishments and wish them well as they continue their educational journeys and pursue their passion on the water.  They are amazing role models for our sport and we are convinced that each of them will make great contributions to our communities in the future."
USA-WWF is proud to have the following outstanding individuals represent our sport both on and off the water: Anna Gay, Cullen Parker, Lexi Nate, Landon Geels, McKenna Cullinane and Dillon Brouch.