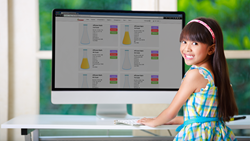 By leveraging modern technology, Afficient Academy's programs make learning highly engaging and efficient with excellent outcome
SAN JOSE, Calif. (PRWEB) June 09, 2018
Afficient Academy Inc., devoted to developing a new generation of education programs leveraging modern technologies to empower students to excel, is pleased to announce today that its first franchise learning center is going to open in Fremont, California on June 16th, 2018.
Serial Entrepreneur Neeraj Datta and his wife Anita Bolinjakar are longtime residents of Fremont and have experienced the ineffectiveness of various after school programs offered around the Bay Area while raising their children. Both Neeraj and Anita are Engineers by training but educationists at heart. When they learnt about Afficient Academy, its philosophy and staggering success of its students, they were highly impressed and interested to open the first Afficient Academy franchise learning center. This Afficient Academy Learning Center is located at 3620 Peralta Blvd, Fremont CA 94536.
"By leveraging modern technology, Afficient Academy's programs make learning highly engaging and efficient with excellent outcome," said Dr. Jiayuan Fang, the Founder and CEO of Afficient Academy. "We can share our proven Afficient Methodology at our learning centers with students everywhere."
Afficient Academy's programs assist students to not only achieve a strong foundation but also advance ahead of their school grade level by mastering the skills & abilities required to achieve excellent results efficiently. Afficient Academy, which currently has five learning centers in the South Bay Area, is expanding its business so that similar results can be achieved by students all over the country and beyond.
Looking ahead, through its franchise operations, Afficient Academy aims to partner with prospective entrepreneurs to start their own franchise learning centers and facilitate in enhancing the skills and confidence of children in subjects like math and English in communities around them. Afficient Academy is offering opportunities to open new learning centers in all the strategic markets around the country. Motivated and passionate individuals with entrepreneurial mindset may contact Afficient Academy for its educational franchise opportunities.
About Afficient Academy
Afficient Academy, Inc. was founded in 2014 in Silicon Valley California. Its patented methodology is significantly improving learning experiences and effectiveness. With the state-of-the-art approach to building a solid foundation first, the personalized and intelligent computerized math program helps students to achieve outstanding results efficiently.
To learn more about Afficient Academy visit: http://www.afficienta.com
For more information about available franchise opportunities, please email: franchise(at)afficienta.com
Afficient Academy, Inc. 1054 S. De Anza Blvd. Ste 201, San Jose, CA 95129