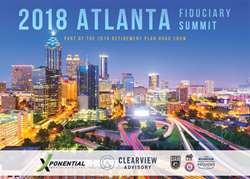 We look for creative ways to help employers drive results...
ATLANTA (PRWEB) June 13, 2018
Atlanta marks the tenth stop on the nationwide tour known as the Retirement Plan Road Show, a series of educational summits offered by Xponential Growth Solutions (XGS) that is now entering its seventh year. The 2018 Atlanta Fiduciary Summit will be held Tuesday, July 17, from 9:30 a.m. to 2:00 p.m. (luncheon included, optional 20-minute stadium tour after summit) at SunTrust Park in Atlanta.
The Retirement Plan Roadshow was founded by XGS in 2012 with the intention of providing educational resources to businesses looking to help employees reach retirement plan goals. Stops along this national tour are hosted by local business leaders and each stop features several speakers, including local retirement plan leaders and leading industry experts. Summits are designed to benefit business owners, fiduciaries, and finance, human resource, and benefit executives looking to create the best strategies for plan participants.
In 2017, the Retirement Plan Road Show drew members from over 1,200 businesses and organizations supporting more than 2 million plan participants and managing over $125 billion in retirement plan assets. XGS, along with local partners at Clearview Advisory, is pleased to create a positive impact for so many businesses and employees.
"As retirement plan consultants, we look for creative ways to help employers drive results. The Road Show is a great opportunity to connect with Finance and Human Resources professionals, and to share where retirement plans and the broader employee benefits industry are headed," emphasized Gregory Fiore, managing partner at Clearview Advisory and host of the 2018 Atlanta Fiduciary Summit.
The lineup of local guest speakers includes:

Gregory Fiore, Managing Partner at Clearview Advisory in Atlanta
John Choate, Former Navy SEAL and Founder of Procinctu Group
Anne Morris, Principal, Audits – Windham Brannon
Ilene Ferenczy, ERISA Attorney & Managing Partner – Ferenczy Benefits Law
Topics of discussion for the 2018 Atlanta Fiduciary Summit include:

Keynote: Personal Safety Awareness
The 10 Most Common Audit Findings
Lawsuits & Fiduciaries: Committee Best Practices for Effective Retirement Plan Oversight
HR Technology Strategy & Trends
Attract & Retain Talent using Student Loan Tools
Financial Finesse
Looking Ahead: What's Next for Retirement Plans
Participants in the 2018 Atlanta Fiduciary Summit may be eligible to receive the following continuing education benefits for attendance:

3 Hours of CPE/CPA Credit
3 Hours of HRCI/SPHR/PHR/GPHR General Credit
3 Hours of SHRM Professional Development Credits (PDCs) - CEBS Eligible
The cost to attend this event is a registration fee of $150, which may be waived for select, qualified plan sponsors following completion of a one-minute Retirement Plan Road Show survey on the event page - http://xgrowthsolutions.com/events/2018-atlanta-fiduciary-summit/
About Xponential Growth Solutions: Xponential Growth Solutions (XGS) is an independent resource for unbiased education, best practices, and referrals, working to help employers make informed decisions about retirement plans in order to create a positive impact for plan participants. XGS offers solutions for 401(k), 403(b), 457, and defined benefit retirement plans, while also facilitating national fiduciary educational summits designed to help human resource, finance, and business professionals in charge of retirement plans to understand and observe best practices in order to reach retirement plan goals. XGS founded the Retirement Plan Roadshow, a nationwide series of educational summits featuring local and leading fiduciary experts, in 2012.
For more information, visit: http://www.xgrowthsolutions.com
About Clearview Advisory: Clearview Advisory is an Atlanta firm that specializes in retirement plan consulting. Its mission is to help people save for retirement by working with employers to navigate and improve their retirement plans. Clearview's philosophy is simple: "We take care of our clients, so they can take care of their employees." Clearview Advisory designs retirement plans specifically for their clients' needs, and simplifies the process of setting up and managing their plans, so clients can focus on their core business.
For more information, visit: https://clearviewadvisory.com