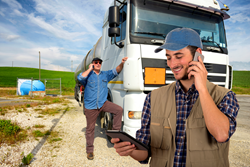 "What we have built together is an affordable program for fleets to lease iPhones® and iPads® for their drivers along with mounts, wireless accessories, virtual driver training and education, ELD solutions and more, all with the iOS devices being at the center of it all."
CORNELIUS, N.C. (PRWEB) June 13, 2018
OVATION Wireless Management, a leader of Managed Mobility Solutions, is pleased to announce they have launched the first lease bundle of products and services for the logistics industry across America that includes Apple® products and mobility services in an effort to help fleets operate more efficiently. This initiative also helps to recruit and retain drivers by providing them the right tools and newest technology to support their work and make their lives easier.
Truck drivers today are faced with many challenges to try to source all the various components needed to make their job a safe and successful one. OVATION takes a streamlined approach to equipping trucks and drivers with the latest technology and best devices to help make the drivers' experience optimal, while providing a total suite of technology and service solutions to meet all of the company's policy objectives, risk and safety compliance measures, and to save fuel and labor expenses. The solution provides complete visibility of an entire fleet while enhancing customer service and increasing driver satisfaction (retention) rates.
With over 3.5 million truck drivers on the roads and over 70% of the goods carried in the U.S carried on trucks, the need is great for a total solution to bring safety, visibility and useful top notch products and services to this segment. Randall Light, CEO of OVATION states, "We wanted to create something unique that brings our experience of delivering wireless expense management, coupled with Apple's world class products, to the transportation industry to help with their number one initiative, which is driver retention."
Light further notes, "What we have built together is an affordable program for fleets to lease iPhones® and iPads® for their drivers along with mounts, wireless accessories, virtual driver training and education, ELD solutions and more, all with the iOS devices being at the center of it all."
OVATION is working with other partners to bring this bundle to fleets, including Huntington Technology Finance, who will be providing the lease agreements, and Bigtincan, a content management platform service that will help to host and support driver training and education to the iOS devices in addition to important company-designed operational systems, apps and information. The driver lease bundle includes many options and can be customized and branded with a motor carrier's logo and company colors for further driver engagement.
"With our Professional Driver and Logistics Bundle, drivers will be able to communicate, operate, navigate and complete necessary safety training directly from their iPhones® or iPads® without having to leave their truck. MacBooks® and the complete line of iOS business solutions are available under this program as well. These devices will also be useful for signature capture, or even for in-cab Movies, Music and Gaming options", comments OVATION's Senior Vice President, Mobile Fleet Solutions, Lance Merklein. OVATION and iOS bundles will help fleets keep drivers efficient and happy on the road, demonstrating innovative solutions and support as they strive to attract and retain top driver talent.
See how businesses around the world are using Apple® devices and apps to change the way they work:
Apple for Business Success Stories
About OVATION Wireless Management:
Based outside of Charlotte, North Carolina, OVATION is a privately held company providing global enterprise managed mobility solutions for Fortune 1000 companies. More than 100 enterprises rely on OVATION's 750 years of combined direct wireless industry experience to manage, secure and support their mobile connected devices and employees. OVATION receives no compensation from any wireless provider and is completely unbiased with regard to its consultative approach and recommendations to its clients.
OVATION provides comprehensive managed mobility solutions, including procurement services, wireless expense optimization, real-time optimization, mobile asset management, mobile device management and mobile end-user support.
OVATION Wireless Management, Inc.
http://www.ovationwireless.com
704-714-2111 or 1-866-207-2111 Main Office
info@ovationwireless.com
Media Contact: Carolyn Taylor – Director of Communications 704-926-6738 Direct