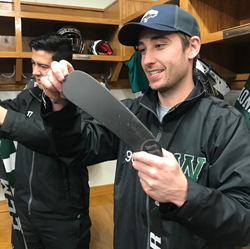 We've got a great staff! They absolutely love the sport and helping people to enjoy it.
WINNETKA, Ill. (PRWEB) June 12, 2018
Like many small businesses, Home Ice was fueled by a little frustration. "So many people in this area enjoy playing hockey, but had trouble finding someone nearby to correctly sharpen their skates." explains Home Ice Owner, Jeff Dolphin. "Skate sharpening is a big deal! It doesn't matter how experienced you are or your skill level, skates need to be sharpened correctly."
Jeff saw an opportunity, and started by locating a used skate sharpening machine in Minnesota, shipping it home, and installing it in a very small retail location in Winnetka, Illinois. Home Ice was born. In no time, Jeff was sharpening skates and delivering them right to customer's front doors every day.
"At first, the store became kind of a hangout for our friends and the guys I played hockey with." Continued Dolphin. "Then, we started searching out and selling cool vintage sports items and a small selection of brand new hockey gear in the shop, and things really took off!" Although it is their smallest location, the Winnetka shop on Oak Street has an extremely cool vibe, charming upscale location, and remains one of their busiest stores.
Their other locations now include larger spaces in Northbrook and Highland Park. When word started to spread about Home Ice in Winnetka, it wasn't long before Jeff was contacted by the (NSIA) North Shore Ice Arena. The Pro-Shop at NSIA had just gone out of business, leaving customers and visiting tournament teams without a source for needed gear and last minute sharpening of their skates. "It was a little scary at first, being six times the size of our Winnetka location." Says Jeff. "However, we were getting a lot of request for additional gear and equipment, so this space could handle the inventory and the timing seemed right to expand the business."
Home Ice now carries a selection of top equipment brands offered by leading industry suppliers, and even professional gear like custom stick-blade patterns and Pro safety equipment. They continue to be the number one source in the North Chicago market for skate sharpening, with an attention to detail and service that has many players saying that Home Ice is the only place they'll get their blades sharpened. In addition, Home Ice now supplies the uniforms, team gear, and equipment with matching team colors to schools like New Trier and Washington University in St. Louis, as well as teams in Winnetka, Wilmette, and Highland Park. In an effort to become a one-stop-shop, they also handle repairs for a variety of equipment.
In an age when products are so easily purchased online, Jeff believes it's their personal touch and passion for the sport that gives them the advantage. "We've got a great staff! They absolutely love the sport and helping people to enjoy it. As coaches ourselves, we understand how to properly fit the equipment to the young players who come in. That way, we ensure the parents are buying the right gear, and the kids are having the best experience possible while learning the sport." says Dolphin.
Hockey players and clubs from Indiana to Wisconsin have contacted Dolphin, in hopes that he might open a Home Ice location in their community. Jeff says that although some of the offers have been tempting, he is focused on serving their current customers and only growing if he can provide the same sports-minded cool attitude and level of service that his original Winnetka location continues to enjoy.