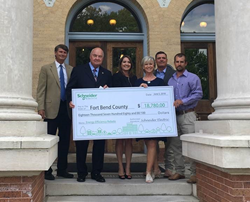 The project is expected to reduce Fort Bend County's jail utility budget, saving more than $233,581 in annual energy costs.
RICHMOND, Texas (PRWEB) June 12, 2018
Schneider Electric, a global specialist in energy management, along with Fort Bend County, today announced the construction completion on the third phase of a comprehensive energy efficiency project to further reduce energy costs and improve facility infrastructure. The previous two project phases successfully lowered the County's utility bills and reduced maintenance expenses. The newest phase will improve performance of the County's jail facilities.
In recent years, Fort Bend County has been challenged with increasing energy and operational costs at the jail due to aging infrastructure that was consuming increasing amounts of energy over time. The County also desired to modernize infrastructure and technology, but lacked the funds for the upgrades. Thanks to the energy efficiency partnership, Fort Bend County generated savings to fund major mechanical and electrical renovations throughout the jail without being a financial burden for the community.
Notable improvements that have modernized the jail facilities include:

Retrofitting lighting with state of the art, long life LED technology
Replacing antiqued mechanical equipment
Updating the building automation system (BAS) for better control and efficiency
Optimizing water fixtures to reduce consumption
Fort Bend County's comprehensive energy efficiency project will generate approximately $8,225,000 in energy savings over the life of the project. Additionally, the project is expected to reduce Fort Bend County's jail utility budget, saving more than $233,581 in annual energy costs.
"Our mission is to help Counties like Fort Bend achieve their energy savings and sustainability goals," said Tammy Fulop, Vice President of Energy and Sustainability Services at Schneider Electric. "We are proud to bring energy efficiency improvements to Fort Bend County our long-term partner."
About Fort Bend County
Fort Bend County is located in the Texas Southeast, immediately South and West of Harris County and the city of Houston. It is the home of over 750,000 people and is one of the fastest growing counties in the United States. For more information about Fort Bend County, visit the county homepage at http://www.fortbendcountytx.gov.
About Schneider Electric
Over the past 26 years, Schneider Electric has successfully implemented more than 700+ Energy Savings Performance Contracting (ESPC) projects across the nation, saving its clients nearly $2 billion. This project delivery method helps publicly funded entities make capital improvements over longer payback periods and offers many long-term benefits such as improved facility efficiency, occupant comfort, financial management and environmental protection. For more information on how Schneider Electric helps public entities tackle their top priorities with energy efficiency, please visit http://www.enable.schneider-electric.com.
Hashtags: #SchneiderElectric #FortBendCounty #energy #efficiency #LifeIsOn #DigitalEconomy