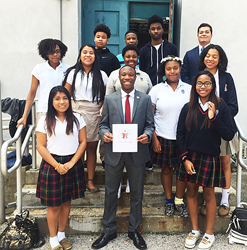 "Inn Dwelling is honored to be a finalist for The Wawa Foundation's coveted Hero Award. Wawa is a dedicated community partner," says Philip E. Hughes, Jr., Inn Dwelling Executive Director. "We're excited to work alongside such dedicated individuals in making a better, stronger Philadelphia."
PHILADELPHIA (PRWEB) June 13, 2018
Inn Dwelling is thrilled to announce it is one of four finalists for The Wawa Foundation's 2018 Hero Award, having been selected from over 250 Philadelphia nonprofit submissions. As a finalist, Inn Dwelling is in the running to win a $50,000 grant to support their transformative education programs working to break the cycle of poverty for at-risk, underprivileged youth.
The Hero Award winner is determined by a community vote, taking place on Wawa's website here: https://www.thewawafoundation.org/hero-award/. Supporters can vote for Inn Dwelling through June 15th using a valid email address(es), and voting is not limited to Philadelphia or Pennsylvania residents.
Inn Dwelling will be in attendance at the Wawa Welcome America festivities on July 4th, where The Wawa Foundation will present the Hero Award to the winning organization as part of the Independence Day Celebration of Freedom Ceremony in front of Independence Hall.
About Inn Dwelling
Founded in 1981, Inn Dwelling has consistently worked to enable our community members to achieve self-sufficiency and upward mobility. Today, we serve gifted, underprivileged, at-risk Philadelphia youth ages 11 to 18 through our Comprehensive Youth Initiative (CYI), a unique transformative education program that weaves together after-school tutoring, standardized test prep, STREAM skills, community service, leadership development, scholarships, and more with mentoring and advocacy to give our students the best chance at success. We aim to break the cycle of poverty by providing our next generation with the right tools to inspire, thrive, and lead—and ultimately shatter the systems that create the inequity they face for themselves, their family, and their community. Learn more at http://www.inndwelling.org, and follow us on Facebook here: https://www.facebook.com/Inn-Dwelling-120307177982067/.
About The Wawa Foundation
Inn Dwelling is proud to partner with The Wawa Foundation, an extension of Wawa's commitment to fulfilling lives every day. The Wawa Foundation is a 501(c)(3) non-profit corporation founded by Wawa, Inc. to support the company's charitable giving and philanthropic activities – and ultimately to help build happier, stronger communities. The Wawa Foundation focuses its support on organizations committed to health, hunger and everyday heroes through local, regional and national grants. Since its inception in 2014, The Wawa Foundation and Wawa have contributed more than $50 million to non-profit community organizations.