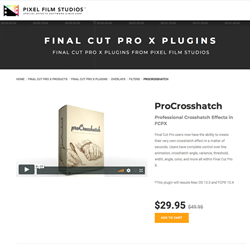 "Hand-drawn crosshatch overlays are now effortlessly applied to any media with ProCrosshatch for Final Cut Pro X!"
ALISO VIEJO, Calif. (PRWEB) June 13, 2018
Final Cut Pro users now have the ability to create customized crosshatch effects in a matter of seconds with ProCrosshatch! Users have complete control over line animation, crosshatch angle, variance, threshold, width, angle, color, and more all within Final Cut Pro X.
Users can transform any media into a work of art with ProCrosshatch from Pixel Film Studios. With a wide range of control over attributes such as outline color, outline intensity, threshold, gradient colorization, multiple smears, multiple crosshatch, taper, line distance, and line angle, Final Cut Pro users can craft the ultimate effect!
ProCrosshatch from Pixel Film Studios creates an endless amount of effects with a few clicks of a mouse. Users are given a wide range of pre-designed crosshatch effects with the ability to create a customized look within a matter of seconds.
With ProCrosshatch users have the choice of line animation with choices over, trails, strobes, and smears. Users have full control over softness, speed, refraction, and more leaving room for endless possibilities all within Final Cut Pro X.
ProCrosshatch was professionally designed to work seamlessly inside of Final Cut Pro X. As an effect ProCrosshatch can be dragged and dropped onto media and previewed in real time. With the published parameters found in the FCPX inspector, users have the ability to make further adjustments with just a few clicks of a mouse.
Established in 2006, Aliso Viejo, California-based Pixel Film Studios is an innovative developer of visual effects tools for the post-production and broadcast community. Their products are integrated with popular non-linear editing and compositing products from Apple FCPX. Apple, the Apple logo, Mac OS X, and Macintosh are registered trademarks of Apple Inc. in the U.S. and/or other countries. All other trademarks and trade names are the property of their respective owners.