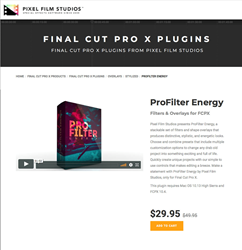 "ProFilter Energy adds exciting filters and overlays that add energetic fun to any Final Cut Pro X project!"
ALISO VIEJO, Calif. (PRWEB) June 14, 2018
Pixel Film Studios presents ProFilter Energy, a stackable set of filters and shape overlays that produces distinctive, stylistic, and energetic looks. Choose and combine presets that include multiple customization options to change any drab old project into something exciting and full of life. Quickly create unique projects with simple to use controls that makes editing a breeze. Make a statement with ProFilter Energy by Pixel Film Studios, only for Final Cut Pro X.
ProFilter Energy includes 30 filter presets and 5 shape overlay presets. The included shape overlay presets compliment the filters to add dimension and energy to any FCPX project. Because each preset is designed with ease and personalization in mind, creating truly unique projects are a cinch with ProFilter Energy.
With ProFilter Energy, quickly easily stack presets on top of one another to create a variety of looks. Presets are built as titles so because of this, any layer under a preset is and will be affected. With options such as blend modes and animations, creating original looks are an uncomplicated and swift process. Stacking presets with varying shapes and color styles will create new and amazing effects.
ProFilter Energy has been designed to include a variety of animation controls that give users more control. Customize backgrounds, masks, and shapes with intuitive drop-down menus, checkboxes, and slider controls. With a click of the mouse, turning animations off and on is as simple as that.
Professionally designed to work seamlessly inside of Final Cut Pro X, ProFilter Energy is a smooth and efficient FCPX plugin. By dragging and dropping on top of any media, users can preview changes in real time. With the published parameters found in the FCPX inspector, users have the ability to make further adjustments with just a few clicks of a mouse.
Established in 2006, Aliso Viejo, California-based Pixel Film Studios is an innovative developer of visual effects tools for the post-production and broadcast community. Their products are integrated with popular non-linear editing and compositing products from Apple FCPX. Apple, the Apple logo, Mac OS X, and Macintosh are registered trademarks of Apple Inc. in the U.S. and/or other countries. All other trademarks and trade names are the property of their respective owners.