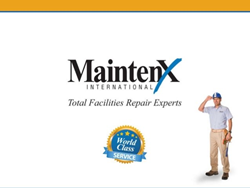 While rain might seem like a small nuisance, it can become a large problem for facility managers if left unchecked.
TAMPA, Fla. (PRWEB) June 17, 2018
Summer rains bring a multitude of troubles from water damage to pests. Last summer, Florida saw an average of 8-12 inches of rain between June and August. MaintenX wants to help combat some of the problems rainwater can cause to your property or business. Water damage can have a ravaging impact on buildings or homes even after a small amount of rain. It's important to protect yourself against water damage with preventative maintenance and by planning ahead.
"While rain might seem like a small nuisance, it can become a large problem for facility managers if left unchecked," said Bill Schaphorst, MaintenX's VP of Business Development. "Scheduling preventative maintenance and repairs before the rainy season can help facility managers reduce wear and tear to their property."
Protect your roof!
Rainwater can be a serious problem and affect more than just your roof. Scheduling regular roof maintenance can help protect your building against water damage, but there are many other areas to consider. Parking lots typically gather a lot of runoff water which ends up in the gutters or drainage system. However, drains can become clogged by debris or litter and must be cleared often to properly function. Facility managers can schedule an appointment with a maintenance professional, like a MaintenX technician, before the rainy season to clean and provide any necessary repairs to the drainage system.
Clean your gutters!
Roof gutters are important to keep your home or building in tip top shape. Clogged gutters can impair your building's foundation by not allowing water to flow over the sides and away from the building. Instead, water will create a puddle around the base of your building and eroding the soil around a building's base. This can cause the foundation to settle, creating trouble with cracked walls and uneven floors.
Make regular maintenance your priority!
Every season can seem like the rainy season for Floridians, although summer typically brings the most precipitation. Make sure to check your roof, doors and windows for damage or areas that could allow water to seep in before summer begins. Schedule regular maintenance to make sure you're prepared for Florida's next big rainstorm. Preventative maintenance matters and can make a difference in your business' recovery after a significant rain fall.
For more information about MaintenX, visit http://www.maintenx.com.
ABOUT MAINTENX INTERNATIONAL:
MaintenX International is a fully-licensed, facilities repair company. They are one of the largest national self-performing facility maintenance and repair companies in the U.S. MaintenX has created a network of knowledgeable and professional technicians throughout the country. With their team of well-trained technicians, MaintenX self-performs and manages facility maintenance for clients. In the event there is not a MaintenX technician in the area, the company has fostered a network of preferred vendor partners throughout the country to provide superior service for their clients. For more than 35 years, MaintenX has been expertly serving multi-location retail stores, restaurant chains, and Fortune 500 companies nationwide.