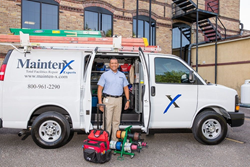 Facility managers trust MaintenX with all kinds of renovations, from bathroom updates to full-scale remodeling.
(PRWEB) June 12, 2018
Starting a renovation on a commercial building can be a simultaneously exciting and stressful. Whether a renovation brings a new business to life, refreshes the look of an existing building, or adds space to accommodate growth, MaintenX International can help ensure a smooth process and beautiful outcome.
"There are a lot of moving parts that go into a renovation," said Bill Schaphorst, MaintenX's VP of Business Development. "Facility managers trust MaintenX with all kinds of renovations, from bathroom updates to full-scale remodeling."
There are many benefits to a remodel. By modernizing and updating spaces, facility managers can show their customers that their business is appreciated and their comfort is a top priority. If you are a facility manager considering renovations for your commercial space, here are a few tips from MaintenX:
Review Your Assets: A renovation is a perfect time to review the structural, mechanical, electrical, and plumbing assets of your space. If there are already plans to have walls exposed and floors torn up, it's a perfect opportunity to change, update, or modify your equipment. This is also a great time to assess the building envelope to make sure your roof, windows, and doors are properly separating your space from the outside world. A MaintenX technician can help facility managers decide which assets are appropriate for the space and which should be updated or replaced.
Communicate Clearly: One of the most important things facility managers can do during a renovation is clearly communicate with their renovation team. From the purpose of the renovation, major project priorities, timelines, and budgets, sharing key details can help make sure the project stays on track. If renovating a space will impact employees or customers, it's also important to communicate project details with them. Consider construction noise, dust, smell, or visual elements that could impact your various stakeholders, and share details so they know what to expect.
Create a Positive Impression: A renovation can be a great time to communicate the core values and brand of a business. Facility managers can completely freshen the look of a bathroom, fitting room, or common area, which can update and modernize a space in a short time and with a relatively small budget. With a fresh coat of paint or reupholstered furniture, facility managers can communicate that they value the visual experience they give to their employees and customers.
For more information about MaintenX and the renovation services they offer, visit http://www.maintenx.com.
ABOUT MAINTENX INTERNATIONAL:
MaintenX International is a fully-licensed, facilities repair company. They are one of the largest national self-performing facility maintenance and repair companies in the U.S. MaintenX has created a network of knowledgeable and professional technicians throughout the country. With their team of well-trained technicians, MaintenX self-performs and manages facility maintenance for clients. In the event there is not a MaintenX technician in the area, the company has fostered a network of preferred vendor partners throughout the country to provide superior service for their clients. For more than 35 years, MaintenX has been expertly serving multi-location retail stores, restaurant chains, and Fortune 500 companies nationwide.