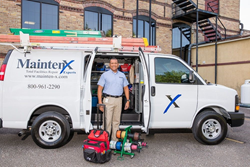 Water intrusion, whether from a leaky roof, improperly sealed windows or standing water buildup, can cause major damage to commercial buildings.
Tampa, Fla. (PRWEB) June 28, 2018
Hearing a distant 'drip, drip' strikes fear into the heart of any facility manager. Water intrusion, whether from a leaky roof, improperly sealed windows or standing water buildup, can cause major damage to commercial buildings. MaintenX International, one of the nation's largest facility maintenance and repair companies, wants facility managers to be prepared when they find water intrusion in their building.
"Facility managers have a lot on their plate to keep a commercial business up and running," said Bill Schaphorst, MaintenX's VP of Business Development. "However, many facility managers choose to call in the professionals when faced with a serious problem like water intrusion."
Water intrusion is dangerous for a business because it can cause costly damage and lead to health-detrimental issues like mold; that's why speedy water diversion is critical. Here are a few tips from MaintenX about better understanding the signs of water intrusion and what to do if water diversion tactics are needed in your facility.
How Did All This Water Get Here?
There are a multitude of ways that unwanted water can enter a commercial facility. Whether through tears in a roof membrane, a clogged HVAC unit, a burst pipe, or faulty water heater, water can find a way to get in. Regularly scheduled preventative maintenance can help reduce the chances of an unexpected leak.
How will you know if you've had water intrusion? Most obviously, you will see areas of standing or pooling water. Some other key clues that there has been a less obvious water intrusion in a commercial facility include staining or discoloration on walls or ceilings, bubbling paint, buckling floors, stale or musty odors, and delaminating finishes on surfaces like linoleum floors or wallpaper. Sagging, sinking, or expanding floors, walls, or ceilings can also be a sign of water damage.
What Can I Do?
Once water gets into a building, particularly if the flow is not contained, it will need to be diverted. Water diversion is when existing pooling or standing water is removed from a building and steps are taken to prevent additional water from entering.
Whether conducted by a facility manager or maintenance professional, water diversion strategy will depend on the type of intrusion. Typical tactics can include sandbagging vulnerable areas to prevent water from entering and using shop vacuums, buckets, and fans to remove, catch, and dry up water. Towels and rags can be used to remove water, while plastic garbage bags are great at protecting items from getting wet.
For more information about MaintenX, and the additional services they offer, visit http://www.maintenx.com.
ABOUT MAINTENX INTERNATIONAL:
MaintenX International is a fully-licensed, facilities repair company. They are one of the largest national self-performing facility maintenance and repair companies in the U.S. MaintenX has created a network of knowledgeable and professional technicians throughout the country. With their team of well-trained technicians, MaintenX self-performs and manages facility maintenance for clients. In the event there is not a MaintenX technician in the area, the company has fostered a network of preferred vendor partners throughout the country to provide superior service for their clients. For more than 35 years, MaintenX has been expertly serving multi-location retail stores, restaurant chains, and Fortune 500 companies nationwide.