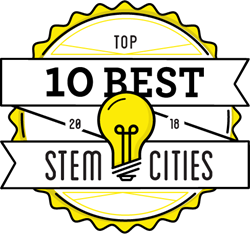 FRANKLIN, Tenn. (PRWEB) June 12, 2018
STEM-related jobs are expected to increase by 13 percent through 2025, compared to 9 percent for non-STEM fields. The national average salary for STEM jobs is $87,570, nearly twice the average of $45,700 for non-STEM occupations, according to the Bureau of Labor Statistics.
With interest and opportunities and interest in STEM at an all-time high, Livability.com has named the - Top 10 Best Cities for STEM Workers. Livability data scientists and editors analyzed more than 2,000 cities based on the following criteria in order to determine the 10 Best Cities for STEM Workers:

Share of total jobs that fall into the STEM category
Median income for jobs in the STEM category
Median income for the STEM category in relation to overall median income for the city
"This ranking showcases a wide variety of cities with amazing STEM job opportunities," says Winona Dimeo-Ediger, Livability's Managing Editor. "We're especially proud to highlight STEM hubs in unexpected places. Silicon Valley is well represented on the list, but cities like Albuquerque and Miami Beach might come as a surprise."
The 10 Best Cities for STEM Workers:
1. Huntsville, AL
2. Longmont, CO
3. Davis, CA
4. Albuquerque, NM
5. Milpitas, CA
6. Gaithersburg, MA
7. Franklin, TN
8. Kirkland, WA
9. Richardson, TX
10. Miami Beach, FL
For more information about the 10 Best Cities for STEM Workers or to schedule an interview, please contact:
Winona Dimeo-Ediger, Livability.com Managing Editor: wdimeo-ediger(at)livability.com
About Livability.com:
Livability.com explores what makes small to mid-sized cities great places to live, work and visit. We examine issues such as affordability, cultural amenities and talent attraction, and celebrate the accomplishments of these cities through our monthly top 10 lists, our annual ranking of the Top 100 Best Places to Live, and daily articles exploring the who, what, why and how behind the "where." Livability.com is a division of Journal Communications, Inc.
###