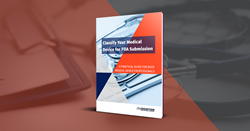 LEXINGTON, Mass. (PRWEB) June 13, 2018
Cognition Corporation, a software company specializing in medical device compliance and commercialization, has just released a new eBook discussing medical device classification.
The new eBook, "Classify Your Medical Device for FDA Submission: A Practical Guide for Busy Medical Device Professionals" discusses the basics of device classification and how to leverage existing tools for discovering and confirming the classification of any device type recognized by FDA. By walking readers through the process of device classification from start to finish, the eBook is a powerful piece of reference material for the busy medical device professional.
"There's so much happening in a given medical device organization at one time," says David Cronin, CEO of Cognition Corporation. "Especially for small-to-medium sized businesses."
"From working on device designs to compliance work, business management, and so on," Mr. Cronin adds, "today's medical device professional has to wear a lot of hats. To make their lives a little easier to manage, we offer resources like this eBook."
This eBook is ideal for medical device professionals looking for a simpler guide to device classification in one location. Drawing from multiple FDA guidance documents and web resources, the eBook is an all-in-one starter reference for organizations looking to better understand how their devices are or may be classified, and why.
In the eBook, readers will find helpful breakdowns of FDA's principle of "safety by design," each device class and types of controls for each, a guide for navigating FDA's device classification database.
"Rather than having to search all over for the information necessary to understand your device's classification, you can use this eBook as a simple reference to get started," says Mr. Cronin. "With the principles of classification under your belt, you can feel more confident in your product development and compliance work."
The eBook is available for download here.
Cognition Corporation, based in Lexington, Massachusetts, has offered solutions for product development compliance for more than fifteen years. Cognition offers the Cognition Cockpit™ Platform, along with engineering and validation support, and industry expertise. Thousands of users worldwide use Cognition solutions to manage their product development process and meet regulatory, performance, and-time to-market goals. For more information, visit http://www.cognition.us or call (781) 271-9300.