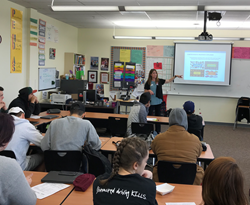 Kudos again to California Casualty, an amazing partner and Member Benefits teammate.
SAN MATEO, Calif. (PRWEB) June 13, 2018
California Casualty, which pioneered affinity group insurance in 1951, has a commitment to the many groups it serves – those representing educators, law enforcement, firefighters and nurses.
As a member benefit, California Casualty steps up for its partner associations, explaining and engaging members through giving programs, providing manpower or offering educational opportunities. The company works hand in hand with group leaders at a variety of levels to improve group participation and affiliation. Whether it's an educational presentation, new teacher orientation, safety gathering, fund raising event or benefit fair, California Casualty field representatives are there offering support and building long-lasting relationships.
A recent example was Field Marketing Manager Erica Reich, who volunteered to help a math teacher and long-time customer that requested an expert to teach insurance to her students. Erica not only came prepared with giveaways to keep students interested, she successfully held their attention while instructing them on various insurance coverages, including how to read a declaration page. Erica has now been asked to bring her dynamic insurance course to another school in the area.
Erica's enthusiasm is just one illustration of California Casualty's commitment to the organizations we partner with. The Illinois Education Association wrote this about Field Marketing Manager Justine Sallee, "She has developed quite an amazing reputation as I continuously receive positive comments regarding her passion to demonstrate association value. Kudos again to California Casualty, an amazing partner and Member Benefits teammate."
Other team members have received these notes of appreciation:
"I wanted to make sure that you knew how grateful our school is to receive this special award and I also want to thank California Casualty as a company for their concern and support of public schools."
"My members love you so keep doing what you are doing."
"Thank you for helping us out for the Safety Summit and presenting for us. You are super helpful!"
"Thank you for the great partnership! I appreciate the offer to assist us as we gear up for the next session and look forward to doing some more school visits with you."
Learn more about California Casualty and the groups we serve at http://www.mycalcas.com.
ABOUT CALIFORNIA CASUALTY
Founded in 1914, California Casualty provides auto and home insurance to educators, law enforcement, firefighters and nurses across the country. Headquartered in San Mateo, California, with service centers in Arizona, Colorado and Kansas, California Casualty has been led by four generations of the Brown Family. Learn more about California Casualty or request a quote at http://www.calcas.com or call 1.800.800.9410.