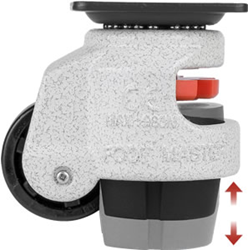 Footmaster's® leveling caster series has proven itself to be an irreplaceable and innovative multi-functional leader in every industry it plays a part in.
WAYLAND, Mich. (PRWEB) June 14, 2018
The GD Series of Footmaster® Leveling Casters are a solution to the age old problem of flexible movement combined with the ability of securely set in a specific location. At Footmaster®, we know that not every factory floor, lab, machine room, and production facility was created the same and we knew that not every industry needed the same solutions. Flexibility, movement, seamless answers for lean production is what we at Footmaster® can now provide.
The Footmaster® GD Series is an anti-vibration leveling caster. This environmentally friendly RoHS certified caster series boasts a forged steel top plate (available in industry standard U.S. and European sizing of both plates and threaded stem). Plus, with a dynamic load capacity ranging based on wheel size from 130lb - 3,300lb per leveling caster, no application is too large or too specific.
Additional options include basic, polyurethane, or anti-static cushion feet, nylon, anti-static polyurethane or MC Nylon® wheels and customizable powder coat finishes.
The world of casters is no longer one-size-fits all. The days of not being able to use a caster because even the best braking caster had too much movement is now the past. Workstations, precision machinery, retail store fixtures or any piece of equipment that needs to remain still can now be moved across the floors and reset with ease.
With our GD Series leveling casters it's as simple as place, level, and done.
At Footmaster®, our devotion to quality, advanced R&D, and in-house testing has already made us a trusted provider for top-tier companies around the globe. We offer the finest craftsmanship and the most streamlined process from development to engineering and continuous quality control.
Footmaster North America is a division of DoRodo, LLC. Learn more about Footmaster at http://www.footmastercasters.com/catalog/leveling-casters.html