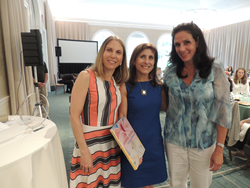 Under Joan's leadership, DOROT Westchester is on a very promising path toward continued growth.
SCARSDALE, N.Y. (PRWEB) June 12, 2018
On Thursday, May 31st, DOROT Westchester hosted its Annual Spring Event. Joan Taback Frankle of Scarsdale, longtime leader of DOROT Westchester, was honored for her dedication to and embodiment of DOROT's mission to enhance the lives of older adults. After six years, she recently stepped down as the Chair of the DOROT Westchester Committee.
When Joan learned about DOROT in 2006, she felt that the organization's mission matched well with her desire to volunteer. She had recently lost her last grandparent and wanted to keep a connection to that treasured generation. After years of volunteering, Joan joined the Westchester Committee, and eventually came to chair it. She brought her deep commitment, inspiring leadership skills, creativity, and incredible energy to the position.
"Joanie knows DOROT's importance to someone who is homebound and lonely. She believes that DOROT volunteers get back what they give and that they help to ensure that seniors age with dignity," shared Monica Aboodi, Westchester Committee member. "Under Joan's leadership, DOROT Westchester is on a very promising path toward continued growth."
The event featured a light buffet breakfast and a guided walking tour of Visions of Hawai'i, the New York Botanical Garden's exhibit of Georgia O'Keefe's paintings. Attendees learned about DOROT's vital work in Westchester and the many services DOROT provides to socially isolated older adults.
About DOROT
DOROT is a social service agency dedicated to alleviating social isolation among older adults by providing services to help them live independently as valued members of the community. For more than four decades, DOROT has been an innovative leader in the fields of aging services and volunteerism. For more information about DOROT, please contact Audrey Stein at (917) 441-3746.