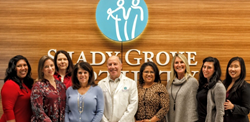 We feel so fortunate to have found Dr. Levy. He is a wonderfully gifted doctor and so very calm and reassuring throughout the process.
LONDON (PRWEB) June 14, 2018
Shady Grove Fertility (SGF), the largest fertility center in the United States, will be hosting a complimentary patient seminar in the UK to discuss their renowned International Donor Egg Program. Shady Grove Fertility Founder and UK Program Director, Michael J. Levy, M.D. will outline the donor egg treatment process and discuss the specifics about this integrated program that allows patients to access exceptional services provided locally by multiple, local clinics and the donor egg registry available only at Shady Grove Fertility.
Among the many benefits of SGF's program, couples and individuals choose a medically, genetically, and psychologically prescreened egg donor who is ready to cycle and donate, without the wait. SGF's donor process is anonymous but completely transparent, as the donor registry provides prospective donor egg recipients with a wealth of information about the donor, including, in many cases, adult photos.
SGF, a pioneer in offering an IVF treatment financial guarantee for donor egg, makes treatment affordable through their exclusive Shared Donor Egg Program and Shared Risk 100% Refund Program for Donor Egg Treatment. With an IVF treatment guarantee, participants take home a baby or receive a 100% refund. Combined, these two programs offer patients up to six donor egg cycles for one flat fee at a 40 percent savings. Shady Grove Fertility's Donor Egg Program provides patients with a highly effective treatment to overcome infertility, with a 60 percent clinical pregnancy rate per embryo transfer.
Representatives from Shady Grove Fertility will be onsite in the UK to discuss the benefits, success rates, and financial affordability of the program. Attendees of the free seminar will learn about traveling abroad for treatment, with only two trips required. In addition, a former SGF patient will share her experience and journey to parenthood through this unique program.
The event will take place on 30 June 2018 at 14:00 GMT at Grosvenor House JW Marriot Hotel. Register for the seminar to learn more.
"We feel so fortunate to have found Dr. Levy. He is a wonderfully gifted doctor and so very calm and reassuring throughout the process. We are currently 5 months pregnant and have had such a positive experience with SGF," shares a Dr. Levy patient.
About Shady Grove Fertility (SGF)
SGF is a leading fertility and IVF center of excellence with 50,000 babies born and counting. With 29 locations throughout MD, PA, VA, D.C., and GA, we offer patients individualized care, accept most insurance plans, and make treatment affordable through innovative financial options, including treatment guarantees. More physicians refer their patients to SGF than any other center. Call 1-888-761-1967 or visit ShadyGroveFertility.com.