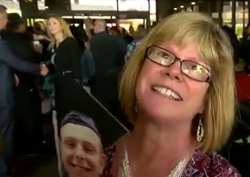 Thank you so much, Toyota of Tampa Bay, for this amazing gift. Go United States of America and God bless
TAMPA BAY, Fla. (PRWEB) June 12, 2018
The 8th Annual Perfect Car For Perfect Attendance Giveaway concluded last week with the announcement of Josh Quiggle as the winner. The keys to a new 2018 Toyota Yaris iA were accepted by his mother at the event livestreamed on Tuesday, June 5 from the Hillsborough County School Board building.
"Oh my gosh, I am so excited for him! I am so nervous I am shaking. He's worked really hard thirteen years," said Wanda Quiggle.
Her son was unable to attend in person because he had begun basic training at Lackland Air Force Base in San Antonio, Texas. He left a video he created before he departed in the event that he won, though.
"If you are viewing this video, I have won the 2018 Toyota of Tampa Bay Perfect Car for Perfect Attendance drawing," said Quiggle, the dealer's 8th winner.
"Thank you so much, Toyota of Tampa Bay, for this amazing gift. Go United States of America and God bless."
The Perfect Car For Perfect Attendance Giveaway is an annual event now in its eighth year that began as a partnership between Toyota of Tampa Bay and the Hillsborough County School District in 2011 to reward students with perfect attendance. Finalists are selected from a pool of eligible seniors, with one lucky winner given a new Toyota as the grand prize.
About Morgan Automotive Group
Morgan Auto Group, one of the largest, privately held automotive dealer groups in the nation, recently ranked in the top 50 by Automotive News.
Through its 25 dealerships, the Tampa-based business offers 15 unique brands from Honda to Lamborghini, with new, certified pre-owned, and quality used vehicles available for lease or purchase. These retail locations also sell car parts and service contracts along with maintenance and repair services.