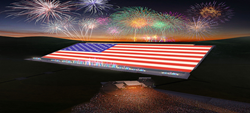 Largest Flag in The World To Be The America Flag Built On Flag Mountain In Park Of America.
MINNETOKA, Minn. (PRWEB) June 13, 2018
The nonprofit Park of America is seeking donations to create the world's largest American flag by 2026. The goal of the giant undertaking, according to founder Terry Sachetti, is to remind all Americans of the values and ideas that unite us all in an increasingly divided time. The proposed flag will be over 77 stories high and be over 2/3 of a mile in length and will be only one part of an entire park dedicated to American ideals and diversity.
For many, the stars and stripes have come to represent politics or divisive issues. But for Sachetti, a Canadian immigrant who moved to the US over 35 years ago, the flag is a reminder of America's potential to bring people together. "It's sad to see the flag as a symbol dividing people," he comments. "It's supposed to be about us, all of us."
The enormous construction, called Flag Mountain, will be large enough to hold 77,000 cars or 112 jumbo jets. Such a large symbol, he hopes, will get people talking to each other again. Inside the flag will be a complex that highlights all of the different areas of the United States, letting guests enjoy regional cuisines and activities. A representative swath of the entire country literally contained within the Stars and Stripes.
It's an ambitious project with lofty goals that extend far beyond fun and novelty. Flag Mountain is just part of Sachetti's dream of culturally and spiritually uniting a divided nation. The whole park is dedicated to helping Americans reconnect with the common goals, ideas, and debates they all share. Sachetti plans to erect the flag by 2026, on the 250th anniversary of the nation's founding.
Park of America, the non-profit behind this massive undertaking, is committed to reminding Americans of their past in order to harmoniously move into the future. "Our independence came from vigorous debate and disagreements," Sachetti elaborates, "we need to remind ourselves that being different is part of being American." With Americans increasingly wary of one another, the park will strive to teach people that patriotism is rooted in embracing diversity in people and opinions.
The flag is planned to be part of a large park highlighting America's ideals and natural beauty. In addition to Flag Mountain, there will also be a star-shaped building called the Soul of America, an amphitheater, a to-scale White House, and other attractions both for fun and educational for guests to enjoy.
Park of America is currently in the process of fundraising and will accept donations of any amount at https://parkofamerica.com/easy_donation/.
To learn more about Park of America, contact them at Info@ParkOfAmerica.com, or to see plans for the full park, visit http://www.parkofamerica.com.
Park of America FaceBook Page