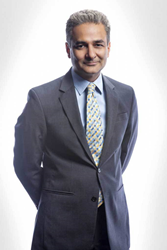 Our world congress events have always been the main platform for our organization to bring together the active members of our community. - Dr. Parsa Mohebi
LOS ANGELES (PRWEB) June 13, 2018
The International Society of Hair Restoration Surgery (ISHRS) recently announced the dates for their 26th World Congress gathering. The event is being held in Hollywood, California this year from October 10th-14. The ISHRS also named Los Angeles based hair restoration surgeon, Dr. Parsa Mohebi, as the Chairman for the event in Hollywood.
According to Dr. Mohebi, the Los Angeles based founder of Parsa Mohebi Hair Restoration, "Our world congress events have always been the main platform for our organization to bring together the active members of our community. It is a gathering of brilliant minds with novel ideas as well as outside speakers that have made a great impact on the hair restoration process. The conversations that take place on stage, as well as in the hallways, all contribute to the evolution of the hair restoration process."
When asked to describe the events at the World Congress, Dr. Mohebi said "The conference will be action packed with a variety of events. We will have panel discussions and workshops featuring some of the most prominent surgeons currently practicing in the field of hair restoration. In addition, hair transplant doctors from all over the world will showcase their ideas and techniques through their abstract submissions."
Dr. Mohebi also remarked that they are going to take advantage of the fact that the meeting in in Hollywood. "California, and especially Hollywood, means sun and fun and celebrities to people all over the world. We are making sure our attendees have a Hollywood experience with our red carpet style award ceremony and other after hour events in the heart of show business."
When asked about being named the Chairman of the event, Dr. Mohebi replied, "I am honored and humbled to be chosen as the Chairman by the ISHRS. I have attended numerous workshops and conferences over the years and have always come away with a wealth of new knowledge and experiences. I look forward to providing everyone attending the conference the opportunity to learn and grow as medical professionals while also having the chance to spend one-on-one time with their fellow medical professionals."
About Dr. Parsa Mohebi:
As the first chairman of the FUE Research Committee of the International Society of Hair Restoration and creator of several methods and techniques in modern hair restoration, Dr. Mohebi, along with his staff, provides his patients with the most advanced hair restoration techniques currently available. Dr. Mohebi has been in the forefront of new research and developing the latest technology to advance the field of hair restoration. Dr. Mohebi is a Diplomat of the American Board of Hair Restoration and a fellow of the International Society of Hair Restoration.