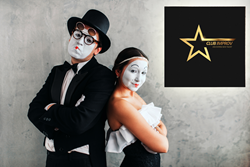 An online talent competition site for new comedians
PHOENIX (PRWEB) June 13, 2018
On Tuesday, June 12th, 2018 a new online comedy competition launched under the name of Club Improv. The competition is designed to get the much-needed exposure for new talent in the comedy industry.
According to Joe DiDonato, an Angel Investor in the venture from Phoenix, AZ, "We wanted a simple and straightforward competition that was easy and free to enter. If the new comedian has a YouTube or Vimeo stand-up routine already recorded, all they have to do is upload it to the Club Improv site and give us some information about themselves. After that, they win by getting their friends and social media groups to up-vote their video. The winner is the one with the most votes when the contest ends at midnight, September 12th, 2018."
Club Improv has put up $1,000 for first prize in this inaugural competition, and the first 100 qualified entrants will also get a $15 Amazon gift card. The team at Club Improv is also working on nailing down performance slots for the winner at a Phoenix-area casino. They are also trying for other performance slots around the country. They hope that as the competition builds, other venues will reach out to them to book the winner. As those opportunities arise, they will either be awarded to the winner, or to second and third place finishers.
The company will be adding more categories going forward, such as a Senior Comedian Competition, Best Improv Competitions on various topics, a Comedy Cartoonist Competition, a Comedy Writing Competition, and even a few other entertaining competitions like a Pet Comedy Competition or a similar version. Each challenge will remain the same - you upload your entry and then use your social media and friends to vote you to the top of the heap.
The only rules are that the contestants need at least 100 votes to win the first-place prize, the video must be greater than 5 minutes in length, but no more than 20 minutes, and the entry much pass the watchful eyes of YouTube, Vimeo and the Club Improv judges. As Peter Panneri, another Angel Investor out of New York, said with a twinkle, "Nobody gets in with a silent 5-minute video of their 'behind' as their entire act, just to get the $15 Amazon gift card. We want real talent on the site." Joe DiDonato went on to say, "Yes, that's correct. They'd at least have to have their behind say a few funny lines."
When asked why they wanted to do these comedy competitions, both investors said that they were running out of material to pass around in their email joke lists. They said that is was purely selfish on their part. They love to laugh. But they quickly added, that their emails always gave proper attribution to the owner and performer of the material.
The entire Club Improv team that put the site together is hoping that it's an overwhelming success, and that they might look back one day and be able to say that they helped launched the career of some of the best comedy stars on the planet. But they also said that they are going to be relentless in their efforts to make this first contest a huge success.
ABOUT CLUB IMPROV
Club Improv is a DBA of Westfield Enterprises, LLC. Westfield Enterprises, LLC is invested in many start-up opportunities and loves working with entrepreneurs. Club Improv is simply a comedy competition site that is free to enter, awards prizes, and helps the world discover new comedic talent.