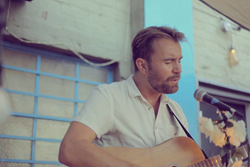 HOLLYWOOD, Calif. (PRWEB) June 13, 2018
Following the first rooftop concert at their headquarters in April, Pavemint, an app that connects drivers looking for parking with LA residents and business owners who have spaces to share, is taking things a step further by teaming up with Treehouse LA, a monthly event pop-up that brings performances by local artists to unique locations all over the city. Together, they will host their first collaboration, an art and music event, this Saturday, June 16th.
The free Pavemint x Treehouse Art + Music event will feature curated fine art by over fifteen local visual artists, as well as live musical performances on the company's Hollywood rooftop. All of the art on display, both original and print, will be available for purchase, with 100% of the proceeds going directly to the artists.
Pavemint, co-founded by former record executive, Randall Jamail, was created to encourage entrepreneurship and to ease the pain drivers face while trying to find parking at events. Unlike their competition, the company has remained steadfast in their dedication to the original inspiration, unlocking underutilized parking inventory near many LA venues, as well as featuring a curated list of live events on their iOS app in order to help attendees arrive happier, while also providing an extra source of income to local residents and business owners.
In keeping with the spirit of their mission, Pavemint will be offering free parking to guests attending the Pavemint x Treehouse event, as well as an additional promo code that can be used for future parking at any of their spaces across Los Angeles.
This is the second co-branded event in Pavemint's ongoing series of summer music, art and educational events that they have planned for the near future. While it is free to attend, space is limited. Guests are asked to RSVP here to be added to the list. If you are a member of the press that would like to attend, please use the contact below to be added to the list.
More About Pavemint:
Pavemint is a mobile platform that connects people looking for parking with residents and business owners who have spaces to share. Similar to concepts like ridesharing and bikesharing, Pavemint seeks to utilize and unlock existing resources in high-traffic urban areas. By building an on-demand economy, Pavemint creates new streams of income for residents, decreases traffic, lowers CO2 emissions, and eliminates the stresses of parking, helping cities to become cleaner and safer. The iOS app launched in October 2017 with over 4,000 parking spaces in some of the most difficult areas to find parking in LA.
Pavemint, LLC is headquartered in Hollywood, California and incorporated in Houston, Texas.
More About Treehouse LA:
Imagine of a packed room adorned with tea lights, the audience's attention hyper-focused on art for the entirety of the night. Treehouse LA started as an intimate event in Alex Wisner's living room but has now become a monthly pop-up event, featuring some of the best artists from all over Los Angeles, and attracting hundreds of people every month.
Press Contact:
Lauren Hoover
213-444-9055
Lauren(at)pavemint(dot)com
instagram.com/pavemint
twitter.com/pavemint
facebook.com/pavemint