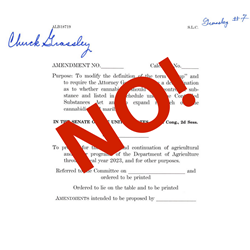 It is critical that we block this last-minute effort to try to sink the bi-partisan Hemp Farming Act.
WINCHESTER, Ky. (PRWEB) June 13, 2018
In response to an amendment to the 2018 Farm Bill filed by U.S. Sen. Chuck Grassley (R-IA), Steve Bevan​, President, GenCanna Global​ issues the following statement on behalf of GenCanna Global USA.
GenCanna, is one of the largest producers of hemp-derived products in the US. Since 2014, we have created over 60 jobs directly and hundreds of jobs in the network nationally and brought more than $40m in economic impact to farming communities in Kentucky.
As Hemp is quickly becoming the economic driver that we all hoped it would become, we are now expanding to our 3rd and 4th facility in KY and we are implementing our vertically integrated farming model and creating jobs across the US in places that include New York's Southern Tier, Southeastern Pennsylvania, and Oregon.
Hemp is on the cusp of being fully legalized in the 2018 Farm Bill. However, late on Tuesday, Senator Chuck Grassley of Iowa introduced an amendment to the 2018 Farm Bill that will remove "extracts" and "derivatives" from the definition of hemp--a move that will cause detrimental impact on the entire hemp value chain, and making it close to impossible to purchase hemp-derived products that are created in a legal and compliant fashion under current rules.
It is unclear exactly why Senator Grassley introduced this amendment, but what is clear is the devastating impact it will have on the industry.
Email your US Senators by clicking here, read the article from the US Hemp Roundtable here, and tell them to vote NO on the Grassley Hemp Amendment.
ABOUT GENCANNA GLOBAL, INC.™
GenCanna Global, Inc.™ is a vertically integrated industrial hemp cultivator and processor located in Winchester, Kentucky. GenCanna™ strives to leverage resources at its Hemp Research Campus to educate and enroll the local community and farming partners. In collaboration with state universities and local agencies, GenCanna™ will continue develop and deploy novel cultivation techniques that enable Kentucky to be the leader in the hemp industry (learn more at https://gencanna.com/agriculture/). GenCanna™ sustainably grows premium hemp cultivars on fertile Kentucky family farms, and crop processes the harvest for sustainable feedstock. Consistent extraction methods and innovative processing technologies ensure the process exceeds all regulatory standards for the FDA registered and inspected food production facilities (learn more at https://gencanna.com/compliance/). The GenCanna Production Platform™ assures standardized, repeatable quality from farm to finished product.
More information about GenCanna Global, Inc.™ may be found at http://www.GenCanna.com.