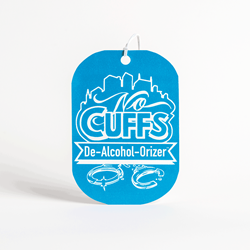 LAKE OSWEGO, Ore. (PRWEB) June 13, 2018
Undnyable, the new outsourced in-house agency founded by former 72andSunny Alumni, Justin Hooper, recently completed its first 360º campaign for "1-800-No-Cuffs" celebrity attorney Darren Kavinoky. Social and online efforts begin the week June 4th, 2018, with the :60 TV spot set to kick off on Saturday Night Live June 9th, 2018.
The campaign utilizes humor to bring attention to the seriousness of driving under the influence via a 'miracle' product: the De-Alcohol-Orizer. It's depicted as an air freshener that can neutralize all alcohol and other drugs in your system when consumed. In the :30 and :60 spots, we see "Bob" stumbling out of a bar, obviously intoxicated. After he's pulled over by police, he hastily grabs his De-Alcohol-Orizer and chews it whole, allowing him to register a miraculous 0.00 on the baffled policeman's breathalyzer. A product shot and super offers five De-Alcohol-Orizers for $19.99. "Sound too good to be true?"
His VO, and then Kavinoky himself, appears, "Unfortunately, it is. A DUI won't just go away." He goes on to discuss his firm and services and ends with his tagline "No one looks good in handcuffs…. unless you're into that sort of thing."
"Obviously the best solution to avoid a DUI is to not drink and drive," says Undnyable Founder and Chief Creative Officer Justin Hooper. "But if you're ever unfortunate enough to end up in that situation, you're going to wish there was an easy way out. So we tapped into that moment of sheer panic in a memorable and humorous way to remind people that there's just no easy way out. Luckily, the experts at 1-800-NoCuffs can genuinely help you when you need it most."
The campaign, created and produced by Undnyable, kicked off its launch by marketing the De-Alcohol-Orizer on Instagram, Facebook and Snapchat in the form of animated gifs encouraging people to "undrunk yourself", all directing to http://www.de-alcohol-orizer.com where people can learn about the technology behind the product and sign up to be alerted when they go on sale. And to further cement the legitimacy of the product, Marc Schechter, the influencer behind @pizzaman_420, conducted his own test and review to his followers with the caption, "I at an air freshener and it made me sober."
The following week, when the TV, radio and second wave of the social launch reveal that the De-Alcohol-Orizer is, in fact, too good to be true, Kavinoky will send all people who signed up on the site a free non-functioning (and inedible), De-Alcohol-Orizer air freshener, in case they need his number in the future.
The :60 spot can be seen here: https://youtu.be/KFaFc73HbBc
Kavinoky, the host and co-creator of Investigation Discovery's Deadly Sins and a frequent guest on The Today Show, Nancy Grace, Dr. Phil, The View, CNN and Entertainment Tonight, among others, is looking to expand 1-800-No-Cuffs nationally through licensing, thus sought the services of Undnyable.
"I had long been disappointed with legal advertising in general, and my previous marketing services, while professional, lacked the creative juice," said Kavinoky. "I became aware of Undnyable and Justin through his amazing and culturally connected work with national brands. We had good chemistry, and now that I see the work, I'm not going anywhere else."
Consumers can continue to order a 'De-Alcohol-Orizer' of their very own for free by visiting the website at http://www.de-alcohol-orizer.com
About Undnyable
Undnyable, part agency, part consultancy, part 80's crack-commando tv show starring Mr. T, is designed to be a highly creative, efficient, and effective solution to any marketing problem or need within brands, production companies, or agencies, and to have as much fun as possible along the way. Founded by award-winning creative director Justin Hooper, Undnyable serves as an outsourced in-house agency for clients big and small, such as SoFi, Taco Bell (via Woodshop), Google (via Tool), and Cura's Select CBD. Having led the creative output and generating culturally connected and highly effective work for brands such as Carl's Jr., Activision, Truth, Totino's, Cisco Systems, AM/PM and Old El Paso, Justin most recently was a GCD at 72andSunny Los Angeles, and launched Undnyable in 2017.
For more information, please see http://www.undnyable.com.
About The Kavinoky Law Firm
The Kavinoky Law Firm is one of California's largest criminal defense firms, with headquarters in Los Angeles and offices throughout the state. In addition to being named a Super Lawyer, Darren was recently named one of California's Top 100 Criminal Lawyers by the American Trial Lawyers Association.He is also the host of "Deadly Sins" on Investigation Discovery, and appears regularly as a legal analyst on CNN, HLN, and many other national shows. For more info please see http://www.nocuffs.com.
Credits:
Title: De-Alcohol-Orizer
Client: The Law Offices of Darren Kavinoky
Product: 1-800-NoCuffs
Agency: Undnyable, Lake Oswego, OR
Chief Creative Officer: Justin Hooper
Creative Director, Copywriter: Sydney Arkin
Director of Content Production: Melissa Cottingham
Production Company: Undnyable
Director: Justin Hooper
Director of Photography: Nick Mahar
Executive Producer: Scott Wickman
Editor: Josh Dennis
Animation, Visual Effects Production: Undnyable
VFX Supervisor / Creative Director: Sean Hooper
Colorist: Josh Dennis
Audio Mix & Sound Design: On Music & Sound
Mixer/Sound Design: Chris Winston
Media Company: Nice Dog Media
President: Michelle Murphy
###