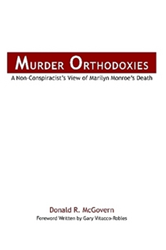 MEMPHIS, Tenn. (PRWEB) June 13, 2018
Retired architect and now published author Donald R. McGovern reasons that there is no real or verifiable evidence that Marilyn Monroe was murdered, as posed by a number of conspiracy theories. These murder orthodoxies, he believes, are based on conjecture, innuendo and the only proof that has been offered is actually a hearsay testimony. After becoming a "Marilyn obsessive," reading biographies and pathographies purporting to be the truth about her life and death, McGovern felt compelled to share his non-conspiracist's view in "Murder Orthodoxies" (published by Lulu).
Readers may visit http://www.lulu.com/shop/donald-r-mcgovern/murder-orthodoxies-a-non-conspiracists-view-of-marilyn-monroes-death/paperback/product-23629728.html to purchase and know more about the book.
In "Murder Orthodoxies," McGovern analyzes and examines the many theories that Monroe was murdered by a host of curious characters – from the middle Kennedy brothers to brutal gangsters to aliens. In here, he compares and contrasts the murder theories, and examines many of the previously published books promoting a murder orthodoxy. He addresses and debunks the usual allegations related to Monroe's death: the secrets recorded in her little red diary, her scheduled whistle-blowing press conference, the murder plots by organized crime and the brothers Kennedy, and the fatal injection of drugs, along with many others.
Through the book, McGovern hopes to restore logic and sanity to the investigation of Monroe's death. His thesis is based upon the premise that the engines of conspiracies are started and fueled by opinion, not by facts. His conclusions are based on logic, science, toxicology and forensic evidence, contradicting the fallacious nature of the murder orthodoxies offered by various conspiracist writers.
"Murder Orthodoxies"
By Donald R. McGovern
Hardcover | 6 x 9in | 566 pages | ISBN 9781483484709
Softcover | 6 x 9in | 566 pages | ISBN 9781483484716
E-Book | 566 pages | ISBN 9781483484723
Available at Amazon and Barnes & Noble
About the Author
Donald R. McGovern is a retired architect whose Marilyn Monroe obsession began after he watched the film, "My Week with Marilyn." When McGovern is not reading about Monroe or writing about her, he plays guitar and drums. McGovern currently lives in Memphis.
Lulu empowers people of all ages to explore and express their interests, passions and expertise through books, photography and art. Since introducing self-publishing in 2002, Lulu has empowered creators in more than 225 countries and territories to produce nearly two million publications. Lulu Jr. allows children to become published authors, encouraging creativity, strengthening literacy and building self-esteem. Picture.com offers professional photography of collegiate and professional sports, memorable and historic events, fine art and home décor. For more information, please visit lulu.com.