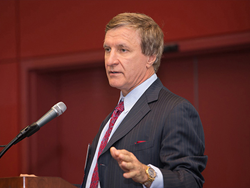 The key to excellence in surgery, and becoming an expert, is to have an intense focus, never be satisfied, always do better and enjoy the process of constructive feedback from patients and colleagues
BOSTON (PRWEB) June 13, 2018
Dallas plastic surgeon, Dr. Rod J. Rohrich, was invited to speak at the Massachusetts General Hospital, one of the premier academic hospitals in the U.S. and in the Harvard health care system. Dr. Rohrich, who is an alumnus of Harvard and the Massachusetts General Hospital, spoke about the development of a template for performing consistent good outcomes in plastic surgery, especially in rhinoplasty surgery. With the use of specific treatment algorithms structured to work well in the management of all types of nasal deformities, these outcomes can occur much earlier than in the past. This template can be applied to all aspects of plastic surgery, and surgery in general, as a teaching pattern in order to develop early improved metric learning skills not by trial and error but by focused algorithms for specific problems.
During his lectures, Dr. Rohrich focused on these concepts in rhinoplasty and facial rejuvenation to demonstrate the need for these specific treatment metrics and patterns. The concepts are intended to avoid a high complication and revision rates early in an academic career and bypass these learning years, so that you can fast track to becoming an expert in a specific area of plastic or surgery in general.
Dr. Rohrich says this template of learning for new surgeons can be especially important in rhinoplasty, which is often considered one of the most difficult surgeries in all of rhinoplasty. Even the best, most experienced rhinoplasty surgeons will occasionally have to perform revision rhinoplasty, in which optimal outcomes become less and less certain. More than half of Dr. Rohrich's patients, for example, come to see him for help after having poor results from a primary rhinoplasty by a different surgeon, often due to poor surgical planning or inexperience.
"The key to excellence in surgery, and becoming an expert, is to have an intense focus, never be satisfied, always do better and enjoy the process of constructive feedback from patients and colleagues," says Dr. Rohrich. "In essence, a 360 ongoing self-analysis each day is what we strive for to achieve excellence and improved patient outcomes."
About Dr. Rod J. Rohrich
Dr. Rod Rohrich is board-certified by the American Board of Plastic Surgery and has a global clinical practice at the Dallas Plastic Surgery Institute. He is a Distinguished Teaching Professor and the Founding Chairman of the Department of Plastic Surgery at the University of Texas Southwestern Medical Center at Dallas. He has served as the President of the American Society of Plastic Surgeons (ASPS)—the largest society of board-certified plastic surgeons in the world, the Association of Academic Chairmen of Plastic Surgery, as well as president of the Rhinoplasty Society. Dr. Rohrich was a member of the Board of Directors of the Plastic Surgery Research Council, the American Society for Aesthetic Plastic Surgery (ASAPS), Plastic Surgery Educational Foundation and the American Society of Maxillofacial Surgeons. He also served as the Chair of the Plastic Surgery Residency Review Committee of the ACGME which oversees all accredited Plastic Surgery training programs in the U.S. Dr. Rohrich was also a Director of the American Board of Plastic Surgery (ABPS), chair of the ABPS Oral Exam Committee and President of the Dallas Society of Plastic Surgeons as well as the Texas Society of Plastic Surgeons. He is also a founding member of the Board of Governors of the National Endowment for Plastic Surgery.