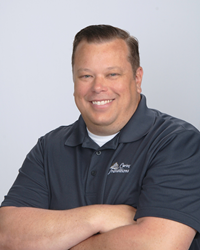 I'm hoping to provide people in this community with a comprehensive suite of services that can help them get to the next chapter of their lives without the physical and emotional strain of doing it on their own. - John Morris
TERRE HAUTE, Ind. (PRWEB) June 13, 2018
Long-time healthcare professional John Morris is pleased to announce his new care-focused business – Caring Transitions of the Wabash Valley.
Caring Transitions' specially-trained team can handle organizing, packing, de-cluttering, moving, resettling, in-person and online estate sales, liquidations, and preparing homes for market. Caring Transitions specializes in managing senior relocations, but the services are also perfect for busy families and individuals in need of assistance. Caring Transitions of the Wabash Valley serves Terre Haute, Sullivan, Clinton, Rockville, Brazil and Linton in Indiana as well as Paris and Marshall in Illinois.
Prior to launching Caring Transitions of the Wabash Valley, Morris, who lives in Terre Haute, worked in healthcare for 30 years. His most recent position was as the program director for a rehabilitation hospital in Indianapolis and, before that, he spent a majority of his career as a staff nurse and then the manager of the rehab unit at another Indianapolis hospital.
"I still have a passion for caring for people and for making lives better, but I was ready for a new challenge and a new adventure. I plan to use my nursing experience and my understanding of the dynamic with seniors and families to offer transition solutions in a caring and compassionate way," Morris said.
Caring Transitions' services are perfect for managing the many aspects of a senior move or for assisting with the process of downsizing to provide a safer living situation as well as for busy families and people clearing out the home of a loved one who has moved into assisted care or has passed. All of Caring Transitions' services are customizable, so clients only pay for the services they need – whether that means managing the entire move and estate-clearing or just getting someone resettled into their new place.
"Before Caring Transitions, solutions for transitioning seniors were almost non-existent in this area. I'm hoping to provide people in this community with a comprehensive suite of services that can help them get to the next chapter of their lives without the physical and emotional strain of doing it on their own," Morris said. "And, with our customized solutions, we can make our services available to almost every individual with almost any budget. That's unique to Caring Transitions."
Caring Transitions is bonded, insured and their W2 employees have been background checked. For additional information, call (812)495-4077, email JMorris(at)CaringTransitions(dot)com or visit http://www.CaringTransitionsWabashValley.com.
About Caring Transitions
Caring Transitions, founded in 2006, is the first national franchising concept specializing in senior relocation and transition services. With more than 200 locations throughout the United States all owned and operated by Certified Relocation and Transition Specialists, Caring Transitions provides clients with supportive moves, auctions, rightsizing and transitions. This includes expert advice plus a well-executed transition plan beginning with the initial sorting of personal belongings through packing, shipping and selling of items to the final clearing and cleaning of the property. For more information, visit http://www.caringtransitions.com or visit us on Facebook.