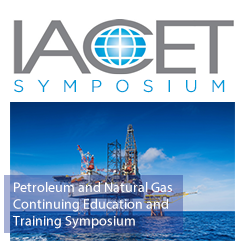 IACET is helping raise the bar on standards for petroleum and natural gas training providers.
RESTON, Va. (PRWEB) June 14, 2018
The International Association for Continuing Education and Training (IACET), a global, non-profit leader in continuing education and training standards, has partnered with some of the globe's most prestigious petroleum and natural gas (PNG) operators to raise standards for continuing education and training (CE/T) offered in the industry.
Higher training standards in this large and dangerous industry are being promoted with three innovated initiatives:
1. The IACET CE/T PNG Standards Symposium to be held September 12, 2018, in Houston, Texas. IACET CEO, Joe McClary said, "this one-day symposium will focus on how organizations can ensure quality training standards by implementing standard frameworks for quality assurance. The symposium will allow attendees the opportunity to spend a day establishing an expanded vision for higher standards that will result in a safer and more productive industry." More information about the PNG CE/T Symposium can be found at http://IACET.org/PNGSymposium. Seating is limited, so early registration is recommended. Sponsorship opportunities are also available for the symposium.
2. IACET PNG Exemplar Training Award will be bestowed on an organization demonstrating an outstanding and effective training program. A panel of industry experts will judge the nominations and present the award at the symposium on September 12. Organizations need not be affiliated with IACET to apply. Organizations can complete a brief nomination form for the award by visiting the website at http://IACET.org/PNGSymposium.
3. ANSI/IACET 1-2018 Standard for Continuing Education and Training – Petroleum and Natural Gas Addendum
The PNG Addendum is based on the foundation of the ANSI/IACET 1-2018 Standard for CE/T and extends the requirements for training providers operating in the PNG industry. The extended criteria were developed by industry representatives including: ASTM International, The Bureau of Safety and Environmental Enforcement, Chevron Corporation, Expro Group, Gulfstream Services Inc., Mid-South Technologies, TechnipFMC, National Oilwell Varco, Parker Drilling, Trinidad Drilling and Wollam Groups, LLC.
In the first quarter of 2019, IACET will develop a separate accreditation endorsement available for any organization serving the PNG industry. The new accreditation endorsement will be available for organizations that are ready to achieve high instructional design and delivery standards and be audited against the IACET Standard and PNG Addendum. Successfully completing an IACET audit will be an excellent way to reduce risk and document the care taken to ensure high-quality training. Bryan Wollam, IACET's PNG Advisory Board Chair, said, "the IACET addendum sets the bar for training companies and has the potential to help ensure training providers operate to an effective standard. IACET's addendum raises the bar and levels the playing field." More information about the IACET PNG Addendum can be found at http://IACET.org/PNG