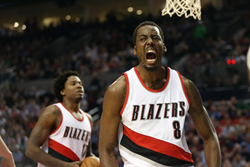 PHOENIX (PRWEB) June 13, 2018
Portland Trailblazer's Aminu ("The Chief") has Arrived at Boink be.live Streaming
When the Portland Trail Blazers signed forward Al-Farouq Aminu, President of Basketball Operations Neil Olshey said, "Farouq's energy, athleticism and developing skillset will have a significant impact on our roster. His versatility on the defensive end is unique and will translate immediately. His ceiling as a player is very high and his best days as a player are still ahead of him."
Aminu will be using the Bonk.be live Mobile streaming application to keep his fans and basketball protégés updated.
See The chief: https://streamable.com/ca4z
Aminu, at age 27 years, is a building block for the Trail Blazers. The forward is extremely athletic and an aggressive rebounder with great defensive versatility. Aminu can defend up to four positions with his length and speed and has proven himself as an efficient rim protector.
A Nigerian-American, he also plays internationally with the Nigeria national basketball team. He will be playing for Team Africa, composed of players born in Africa or with direct family ties to the continent, against Team World, composed of players from the rest of the world. It will honor the centenary of the birth of former South Africa president and anti-apartheid fighter Nelson Mandela, who died in 2013. It will be played in support of the Nelson Mandela Foundation, officials said.
Al-Farouq Aminu was selected 8th overall by the Los Angeles Clippers in the 2010 NBA Draft. Aminu is a descendant from a line of Nigerian kings which literally makes him a prince. The name Al-Farouq means "the chief has arrived." The Chief has shown a growing comfort at putting the ball on the floor and attacking the open space. Aminu has proven to be extremely coachable, starting his last season at Dallas with limited minutes but eventually growing into a key player for the Mavericks during the post season. http://www.nba.com/blazers/aminusinksthree
"Our VP of Corporate Development, Sean Green, is excellent at introducing athletes and entertainers to our Bonk be.live app" stated Michael Gilburd, CEO. Working with Sean, his long-time colleague at American Express, Gilburd believes there will be several more athletes and entertainers who will seek to send their messages through the new version of Bonk.be live.
About Bonk.be live
Bonk. be live is a tool for broadcasting live-streaming videos and watching others perform. With Bonk Live you can log in with a phone number, Facebook account, or Instagram account. Bonk. be Live is the best App for Superstars, Performers and Aspiring Stars who want to keep their fans updated. Bonk.be live Star Broadcasters: interact with fans all over the world, Professional Athletes, Singers, Dancers, Motion Picture Stars, Famous DJs, Rappers, YouTube celebrities, and Facebook top influencers, all can connect to millions of fans, while other broadcasters have fun online endeavoring to Become the next Bonk.be live star!