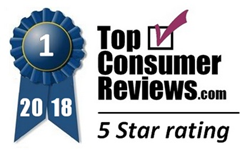 We're pleased to give National Debt Relief our highest rating among providers of Debt Consolidation Services in 2018.
OVERLAND PARK, Kan. (PRWEB) June 13, 2018
TopConsumerReviews.com recently gave their best-in-class 5 star rating to National Debt Relief, a leader among online resources for Debt Consolidation.
Consumer debt levels are at all-time highs. Medical bills, overextended credit, and costly auto repairs are just some of the reasons people find themselves facing economic challenges when expenses exceed income. Unfortunately, many types of debt come with extremely high interest rates, and missing just one payment can cause them to skyrocket even further. For these reasons, many individuals are turning to Debt Consolidation services to simplify their monthly budgets and get a handle on what they owe.
"When it comes to Debt Consolidation, National Debt Relief leads the pack," according to Brian Dolezal of TopConsumerReviews.com, LLC. "While being in debt can feel overwhelming, National Debt Relief's consultants get right to work to put their client's minds at ease from the very first phone call. There's no charge for the initial consultation, and interested consumers can get a recommendation for a course of action based on their unique financial situation before signing up. And with a 100% Satisfaction Guarantee, there's no risk involved with using their services. We're pleased to give National Debt Relief our highest rating among providers of Debt Consolidation Services in 2018."
To find out more about National Debt Relief and other providers of Debt Consolidation services, including reviews and comparison rankings, please visit the Debt Consolidation category of TopConsumerReviews.com at https://www.topconsumerreviews.com/debt-consolidation/.
About National Debt Relief
National Debt Relief is one of the country's largest and one of the most reputable debt settlement companies, dedicated to helping individuals and families rid their lives of burdensome debt. NDR has negotiated settlements for thousands of creditor and collection accounts, providing their clients with expertise and proven results. They have an A+ rating with the BBB and thousands of positive client reviews.
About TopConsumerReviews.com
TopConsumerReviews.com, LLC is a leading provider of reviews and rankings for thousands of consumer products and services. From Debt Consolidation to Credit Repair and Personal Loans, TopConsumerReviews.com delivers in-depth product evaluations in order to make purchasing decisions easier.