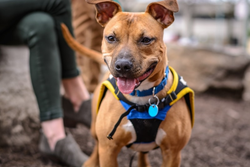 "Anyone that works with and loves dogs should attend this event, because you will walk away with a lot of valuable information that can immediately be implemented with every dog you interact with." Joette White, President of Park Cities Pet Sitter
DALLAS (PRWEB) June 13, 2018
Dogs are constantly attempting to communicate with the people and animals around them. Their body language and vocalizations say a lot about what they're thinking, and make their behaviors easier to predict than most people realize. However, when humans don't know what a dog is saying, intentions can be misunderstand and that can interfere with the dog-human relationship. In a multi-dog home, it's important that the humans in the household also know what the dogs are saying to each other so everyone can live in peace and harmony.
Park Cities Pet Sitter is hosting a seminar by renowned dog behavior expert, Scott Sheaffer on Sunday, August 12th designed to specifically help attendees better understand what their dog(s) are communicating to them. The seminar, called "Learn to Speak Dog: Understanding How Dogs Communicate with Humans and Each Other" will be held from 1:30pm to 4:30pm at Pinot's Palette at 4560 W. Mockingbird Lane in Dallas. Cost of the seminar is $25 when pre-registering prior to August 10th, or tickets can be purchased for $30 at the door the day of the event.
In the 3 hour seminar, Scott Sheaffer, CDBC, CPDT-KA, will provide information on:
> How to know when a dog is conflicted about things
> Detecting stress and anxiety in a dog
> Behaviors that indicate a dog is trying to get away from conflict
> Ways a dog is communicating that he or she needs attention
> Body language that a dog uses to let people know he or she feels friendly and playful
> Ways humans can let dogs know they are not a threat to them
> Avoiding dog bites by seeing the early warning signs
> Special precautions for young children interacting with dogs
Just about everyone who has a dog in their home will benefit from the material. Additionally, anyone who works with dogs such as rescue organizations, groomers, veterinarian practice employees and dog trainers will benefit as well.
Scott Sheaffer is one of the most well-respected dog behavior experts in the state of Texas. In his training practice he specializes in problem dog behaviors including aggression, separation anxiety, resource guarding, fear and compulsive behaviors, amongst others. In addition to individual and group dog training consultations, Scott regularly works with other professionals in the pet industry including veterinary practices, rescues and shelters. He is a consultant for municipal animal control services and is a legal consultant on dog bite cases.
Park Cities Pet Sitter's President, Joette White, is excited to team up with Sheaffer by hosting the August 12th seminar. "We cannot wait for our clients and the local community to attend this seminar," said White. "Not only is Scott one of the most well-respected dog behavior experts in this part of the country, he is also a highly entertaining and engaging speaker. Anyone that works with and loves dogs should attend this event, because you will walk away with a lot of valuable information that can immediately be implemented with every dog you interact with."
To learn more about Park Cities Pet Sitter's upcoming seminar or to pre-register, visit https://www.pcpsi.com/events/.
###
About Park Cities Pet Sitter: PCPSI has served the Dallas, Richardson and Plano areas 7 days a week, 365 days a year since 1992, and was recently named the 2017 Business of the Year by the National Association of Professional Pet Sitters. Dog walking, pet sitting, pet taxis, overnight sitting, pet supply shopping, and dog training are some of the many services PCPSI offers. Park Cities Pet Sitter is bonded and insured, and all sitters are employees--not independent contractors. A manager is on-call 24 hours a day to handle any emergencies. Go to http://www.pcpsi.com to learn more.